Dental Associates Earns AAAHC Accreditation
August 6, 2012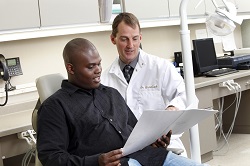 Dental Associates, Wisconsin's largest family-owned dental group practice with 14 clinics, has been awarded accreditation by the Accreditation Association for Ambulatory Health Care (AAAHC).
Status as an accredited organization means Dental Associates meets nationally recognized standards for the delivery of quality health care set by AAAHC. The accreditation was conducted during an independent and extensive evaluation process.
"We believe our patients deserve the best care possible," says Dr. Thomas Manos, D.D.S, M.S., president and owner of Dental Associates. "The certificate of accreditation Dental Associates earned shows that an outside organization has closely examined our dental clinics and procedures and verifies that we are delivering the highest level of patient care."
Ambulatory health care organizations seeking accreditation by AAAHC undergo an extensive self-assessment and on-site survey by AAAHC expert surveyors – dentists, physicians, nurses, and administrators who are actively involved in ambulatory health care. The survey is consultative and educational, presenting best practices to help an organization improve its care and services.
Dental Associates has worked hard to develop a company culture of patient care excellence. In 2003, the company's CEO, Anthony Vastardis, implemented an annual Press Ganey survey to monitor patient satisfaction at each of the clinics. Since that time, the company has earned ever increasing patient satisfaction scores.
"We always put the patient and their needs first," says Vastardis. "Even though the Press Ganey survey and AAAHC review are strenuous and take additional time, they're an important part of our commitment to patient care excellence."
View all Dental Associates locations.
Read more Dental Associates news
###
Founded in 1974, Dental Associates is Wisconsin's largest family-owned dental group practice with 14 clinics throughout the state and nearly 850 staff members, including over 90 doctors and 629 operatories. Dental Associates provides complete family dental services, both general and specialty dentistry, from pediatric dentistry to specialized dental services for older adults, with an emphasis on excellent care that is affordable, accessible, and personalized. Dental Associates is the exclusive provider for CarePlus Dental Plans.
CONTACT INFO:
McKenna Carrigan
mcarrigan@dentalassociates[dot]com
No soliciting; media inquiries only.