By: Orthodontist Nicolas Branshaw
When we look at clear aligner therapy (Invisalign®) and braces as what they are, tools to move teeth, it becomes easier to compare them against one another. Teeth don't know the difference between Invisalign® and braces, but there are biomechanical benefits to the way both tools move teeth and why orthodontists select one over the other when working with patients.
In terms of oral hygiene and the ability to move teeth, Invisalign® is often a preferred treatment option for compromised periodontal (gum) tissues, open bites, and minor crowding. Busy patients also benefit from shorter appointments and longer appointment intervals, only having to see your orthodontist for approximately 15 minutes every 2-3 months for a standard adjustment.

Braces are great for patients with extreme deep bites, large spacing, and bites requiring large root movements such as extractions. A standard adjustment with braces takes approximately 30 minutes and occurs approximately every 4-8 weeks. Hygiene is more challenging with braces and patients should work with their orthodontic team to make sure they're brushing and flossing effectively.
When looking at the technological advancements and the progress that has been made in orthodontists' understanding of clear aligner therapy, most cases can be treated effectively with the Invisalign® product. The orthodontist often recommends braces or Invisalign® based on which treatment modality will serve each patient the more efficiently, as some tooth movements may take months for Invisalign® and years for braces or vice versa.
A major concern for the orthodontist is patient "burnout", where the patient becomes exhausted with treatment and stops wearing elastics or Invisalign® trays. This is seen more frequently with patients who have been in treatment for 1.5-2.5 years, whether in braces or Invisalign®. When an Invisalign® patient "burns out" and stop wearing their trays, they effectively stop treatment. But with braces, if a patient stops wearing elastics for a few days, treatment can still be effective with smaller changes to get back on track. Therefore orthodontists often recommend braces in more complex cases.
Compare Invisalign and Braces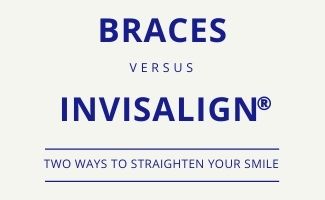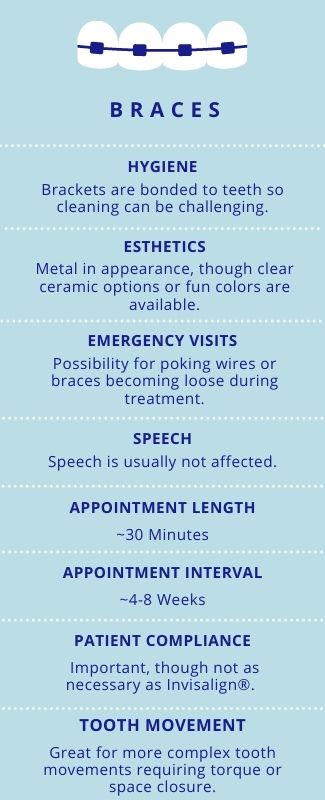 As noted, you can continue your oral hygiene routine as you normally would while using Invisalign®, but you are still susceptible to cavities. With braces, your orthodontist will work with you to show you the proper way to clean under wires and around brackets.
For adults, Invisalign® is often preferred because it's practically invisible, results in fewer emergency appointments, requires fewer visits, and adults often present with compromised teeth and/or gum tissues. Additionally, their high level of motivation to complete treatment makes them an ideal patient for the high level of compliance that Invisalign® requires.
Do Invisalign® or braces moves teeth more efficiently?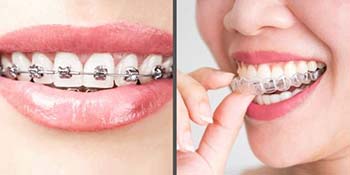 Overall, it's hard to say which would be more efficient for you without a consult. Everyone's needs are different, work with your orthodontist to determine the best care plan for you.
I have seen and understand why patients experience "burnout" with Invisalign®. It requires discipline to make sure you're wearing your trays, removing them to eat or drink anything other than water, and brushing before putting trays back in. With traditional braces, the orthodontist does a lot of the work and you don't have to think about the process very much, if at all. So, braces are more efficient if the patient doesn't wear their Invisalign® trays.
Others prefer Invisalign® and feel more comfortable knowing that the trays are virtually invisible. Many changes can be addressed as efficiently or more efficiently with Invisalign®.
When you'retrying to make the decision about what kind of treatment plan is best for you, be sure to consult your orthodontist or schedule an appointment below to begin the conversation with my team or at a Dental Associates Clinic near you.