According to the American Cancer Society, an estimated 53,260 people will get oral cancer in 2020 and 10,750 people will die from these cancers. Oral cancer has a high survival rate when caught early, which is why Dental Associates dentists pledge to monitor our patients for signs of oral cancer at each routine exam.
Oral Cancer Exams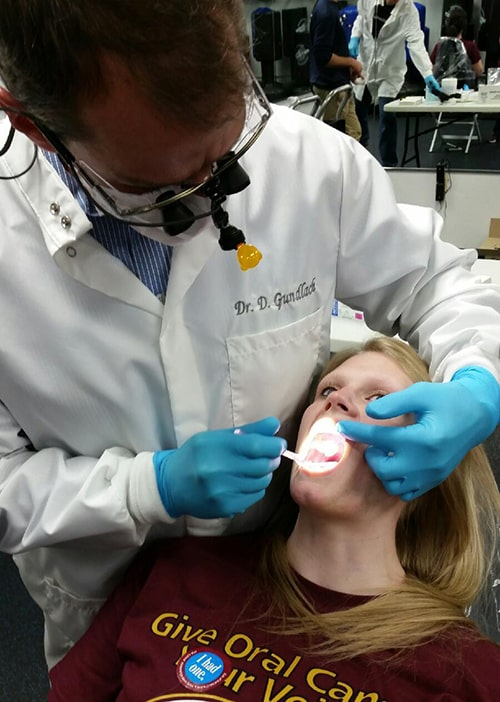 With each routine dental exam, we perform a soft tissue exam as well to look for any sign of oral cancer. During these soft tissue exams, we feel for lumps or abnormalities that could be a sign of something more. In between exams, and especially if you're a high-risk patient (those who have a family history of oral cancer, or are a smoker or chew tobacco), you can also perform self-exams to check yourself for signs of oral cancer. To do this, simply use a light to look around your mouth and monitor for any of the below symptoms. You can also feel around your jawbone and neck area for any abnormal lumps. If you do find an area of concern, make an appointment with your dentist immediately to have it examined further.

Oral Cancer Signs and Symptoms
Signs of oral cancer can include the following:
White or gray patches under and around the tongue
White or gray patches on the inside of the cheek and near the throat
Growths on the lips, gums, and roof of the mouth
Lumps around the jawbone and neck area

Monitoring for Oral Cancer
A bit ago, I was performing an exam on a patient and detected signs of oral cancer. The patient was diagnosed with squamous cell carcinoma, but luckily we caught it early and I was able to send them to our oral surgeon for care and the patient recovered fully. This is just one example of how examining our patients regularly for signs and symptoms of oral cancer can help keep them healthy and save lives down the road.
It's also important to share your family medical history with your dentist because those with a family history of oral cancers are at higher risk themselves. You may also be at higher risk if you're a smoker or chew tobacco.

By seeing your dentist for regular exams and self-monitoring between appointments, you can help keep yourself safe and we can catch oral cancer before it becomes too serious. If it's been a while since you've had a dental exam, schedule an appointment with one of our teams below!

Request an appointment for an oral cancer exam: