Crown Lengthening: How I Fixed My Gummy Smile with a Simple Procedure
Crown Lengthening: An Easy Fix for a Gummy Smile
Below is a story that Dental Associates patient Candy Turk shared with us. Candy always felt her gummy smile and small teeth drew unwanted attention. A discussion with her Dental Associates dentist led to a simple procedure called "crown lengthening," which corrected the problem and gave Candy a new confidence in her teeth.
Read Candy's story below, then learn how you can benefit from the procedure too.

Crown Lengthening Corrected My Small Teeth
By: Candy Turk
I have never been thrilled with my smile. I've always felt like people see my gums more than they see my teeth. Every time I talked or smiled, I was very self-conscious about it.
So I started asking around and someone suggested that I have a consultation with a dentist to see if there was anything I could do about it. I had my consult with Dr. Brennan, a periodontist at Dental Associates' Green Bay clinic, and he immediately had a solution. He told me that I should ultimately have bigger-looking teeth.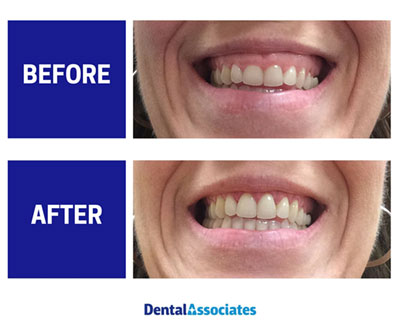 Crown Lengthening Procedure
Dr. Brennan was wonderful to work with; he walked me through the entire treatment plan and explained what the procedure would entail. He told me that he would start by numbing my mouth. Then he would cut and shape the gums and bone underneath to reveal more of my teeth that were essentially hidden under my gums. My teeth—not my gums—are exactly what I want people to see when I smile!
The day of the procedure came and I was so excited. Before the procedure, Dr. Brennan completely numbed my mouth so that I couldn't feel a thing. The procedure took a total of 90 minutes and Dr. Brennan and his assistant, Janel Clark, were amazing! They worked seamlessly together and Janel was like Dr. Brennan's third hand. He was really attentive and checked with me multiple times during the procedure to make sure I still couldn't feel anything. And I really couldn't!

Crown Lengthening Recovery
After the crown lengthening procedure, Dr. Brennan told me I would have sutures in for only one week! He instructed me to brush carefully while my gums healed, and I can honestly say that I felt little-to-no pain during recovery. I only felt a small bit of discomfort while getting used to feeling the air on the newly-exposed parts of my teeth.
When I think of the procedure and outcome as a whole, the small amount of discomfort and care required when eating after the procedure is all so short-term in comparison to the long-term results. I would gladly take a week of sutures in my mouth for a lifetime of feeling completely comfortable talking and smiling!
My advice to anyone who has concerns about their "gummy smile" and appearance would be to stop dragging your feet and get a consultation with your dentist. You never know what a dentist can do to help you until you ask! Dentists are like artists: Dr. Brennan was able to look at my mouth and my individual case and create the outcome I described to him. It was truly amazing.
I would absolutely do the crown lengthening procedure again in a heartbeat because the outcome has been so rewarding. I love my new smile, and I feel much more confident talking and smiling now.
---
From the doctor...
"I saw Candy for her consult and immediately realized a fix for her 'small teeth.' There was nothing wrong with her teeth; we just needed to expose more of each tooth.
The procedure, often called gum lifts or crown lengthening, is fairly simple. We numb the patient's mouth completely, then take the gum tissue and temporarily reflect it back. We remove the bone down to the level it's supposed to be at, then move the gum tissue up to the new position where it's sutured into place. Then after the relatively quick healing process, more of each tooth is visible."
Learn About the Complete Line of Cosmetic Dentistry Dental Associates Offers