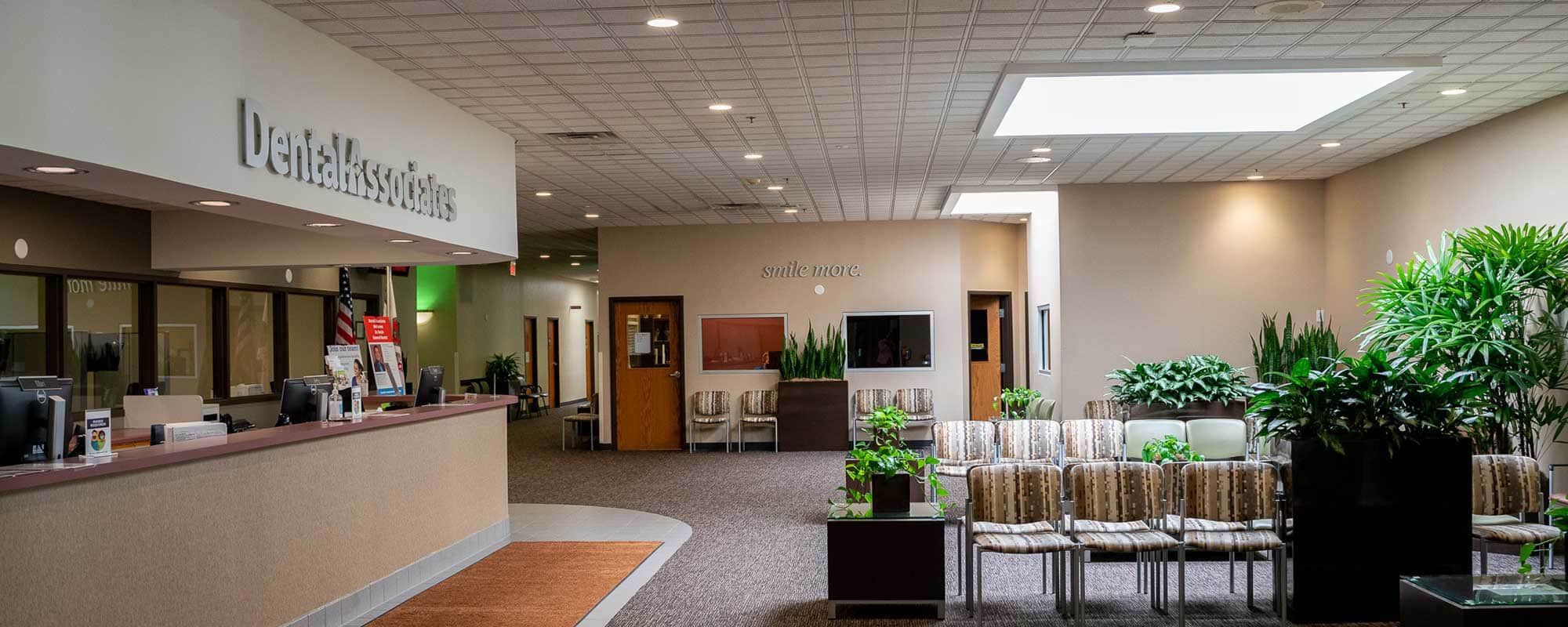 Location
430 Main Street
Green Bay
,
WI
54301
Hours
Mon. - Thurs. 7 a.m. to 6 p.m.
Friday 7 a.m. to 4 p.m.
2nd Sat. 7 a.m. to 12 p.m.
Please Note Dental specialties hours may vary. Please contact clinic to verify.
Clinic Rating
out of
5
(
860
reviews)
Dental Associates clinics and dentists are rated by patients through random surveys conducted by nationally-recognized patient experience firm Press Ganey. Detailed ratings of each dentist can be found by visiting their profile page via the links below.
Services Provided at Our Clinic
General Dental Exams: Visiting your dentist and hygienist twice per year will reduce the risk of tooth decay. Visit this section to learn about the preventative and restorative care we provide, such as fillings, crowns, and bridges.
Pediatric Dental Exams: We provide complete family dentistry and start providing exams by your baby's first birthday. We also offer sealants and fluoride treatment.
Orthodontics: The greatest "continuity of care" we offer is the ability for our general dentist to collaborate with our orthodontists to assure the best outcomes. We offer all braces, from traditional braces with colored bands to clear aligners from Invisalign.
Invisalign: If you'd like to discreetly straighten your teeth, we offer Invisalign clear aligners.
Dental Implants: Whether you need to replace a single tooth or all your teeth, we offer dental implants. Considered today's "standard of care," implants are a permanent solution for missing teeth or dentures.
Root Canal Therapy: If you're in need of a root canal (RCT), we can alleviate your pain.
Oral Surgery: We provide a wide spectrum of oral surgery services. From tooth extractions and wisdom teeth removal, to periodontal care for gum disease treatment.
Cosmetic Dentistry: From teeth whitening and veneers to correcting a "gummy smile," our team can restore your smile to its utmost potential.
Dentures: If you're missing teeth, we offer full dentures and partial dentures to help you feel more comfortable about eating, speaking, and smiling.

Dentists at Dental Associates Green Bay
About our Green Bay Dentists & Dental Clinic
Dental Associates Green Bay first opened its doors in December of 1994. Since our very beginning, we've offered every dental specialty. From general dentists to specialists like pediatric dentists and orthodontists, we have all dental specialties under one roof. Located in the heart of downtown, our Green Bay dental clinic continues to thrive and is one of the largest that Dental Associates has to offer.
We do everything we can to make your visit to the dentist as enjoyable as possible, and kids are no exception. Our children's waiting area features free video games, a book reading area, and activity centers. We offer coffee in our main waiting area for adults waiting for their children during their pediatric dentist or orthodontist appointment. We also have TVs and magazines in our waiting areas for patients to enjoy.
Dental Associates Green Bay has been awarded Best Green Bay Dental Clinic and Best Green Bay Orthodontist in the Press Gazette's "Best of the Bay" for the past several years.
Our Green Bay dentists and staff love to give back to our local community. Two of our biggest community events include "Give Kids a Smile" and "Kids Day."
During Children's Dental Health Month, our Give Kids a Smile initiative provides free exams and cleanings to underprivileged children. During Children's Dental Health Month we also go to local schools and teach children proper dental hygiene techniques and what they can expect at a visit to their pediatric dentist. Each year we visit about 30 schools and impact around 3,000 kids during these presentations.
We also participate in Green Bay's Kids' Day celebrated on June 25th every year (halfway to Christmas). Our staff hands out dental health bags, provide face painting, and has drawings to win fun prizes. At this event, we interact with about 1,500 children.
Dental Associates is Wisconsin's highly respected and family-owned dental group practice. We have thousands of 5-star ratings on Google and enjoy an A+ rating with the Better Business Bureau.
Recent Awards
2018 Press Gazette Best of the Bay Awards: Best Dental Office in Green Bay

2017 Press Gazette Best of the Bay Awards: Best Dental Office in Green Bay

2016 Press Gazette Best of the Bay Awards: Best Dental Office in Green Bay

2014 Press Gazette Best of the Bay Awards: Best Dental Office in Green Bay

2013 Press Gazette Best of the Bay Awards: Best Dental Office in Green Bay
Driving Directions to Green Bay Dental Associates
We are located in beautiful downtown Green Bay, on the corner of Main and Madison, only two blocks southeast from the Fox River and Green Bay's CityDeck.