Teaching Students the Wide Variety of Dental Careers
By: Dr. Donald Gundlach
Not All Dental Careers Require a Four-Year Degree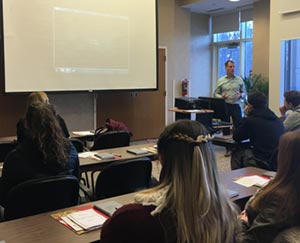 Not all careers in the dental field require a four-year degree. In fact, there are many careers that provide enriching environments with ample opportunities for growth besides being a dentist.
Dental Associates' clinics are full-service, meaning that we provide all dental specialties. To ensure our patients receive the best all-around care possible, we employ both clinical team members as well as administrative and management staff to take care of day-to-day operations and our patients' overall experience inside our clinic(s).
Careers in the dental field can appeal to a large variety of people and personalities. From a clinical perspective, dentists need assistants, hygienists, and receptionists with excellent people skills to ensure that patients have a well-rounded experience and feel comfortable at all times during their visit.
However, you don't have to be on the clinic floor to reap the benefits of working in a dental clinic. By working in clinic administration or management, you get the satisfaction of working in a health care environment and helping patients, but without the clinical aspect.
Dental Associates also fosters an environment of growth and development for our employees. For instance, Brenda Boyd has been an employee at Dental Associates for over 35 years. She started as a dental assistant and has had 12 roles since then. Brenda's journey is just one of many that illustrate the ample room for growth and development as a Dental Associates employee and longevity with the proper attitude and work ethic. As Dental Associates grows, you have the opportunity to grow with it.
Dental Associates Mentors Wisconsin Students
Dental Associates is active in Wisconsin communities teaching students how they can prepare for a successful career in the dental field. Recently, we participated in a health careers awareness day for Milwaukee-area high school students. We spoke to nearly 250 upperclassmen who were interested in a career in health care and told them about the various opportunities at Dental Associates clinics. Our focus was to get students excited about working in dentistry and show them that it is a fulfilling and rewarding career.
We're also involved in an initiative for local students enrolled in dental assisting programs. Through the initiative, we're helping students learn more about the importance and benefits of involvement in a professional organization.
Interested in a Career with Dental Associates?
Thanks to our continued growth in Wisconsin, we're always looking for talented new team members. For more information about careers at Dental Associates, visit our careers site.