Invisalign clear aligners are one of the orthodontic treatment options you can choose to achieve your perfect smile. But how do you know if Invisalign is the right option for you over traditional metal braces, ceramic braces, or lingual braces? Learn the benefits of Invisalign and what to look for when choosing the best orthodontic treatment for you!
Most cases can be treated with Invisalign, but it's always best to see an orthodontist for a consultation to see what option is best for your individual situation. Depending on your treatment plan, you'll receive between ten and 40 Invisalign clear aligners total, changing to a new set once a week. This will gradually and discreetly straighten your teeth over time with easy maintenance and fewer appointments than traditional braces. At the end of treatment, you'll keep a clear retainer to wear at night to maintain your beautiful smile!

Benefits of Invisalign over Braces
Easier hygiene and maintenance. You're able to take Invisalign clear trays in and out when you eat and brush, which means there's less of a chance for white spots on the surface of your teeth and cavities during orthodontic treatment. Wouldn't it be nice to eat the same foods you always have? With Invisalign, you can.
Aesthetically-pleasing. Since Invisalign trays are transparent and nearly invisible, you'll have the benefit of smiling and talking without worrying about people seeing brackets or wires in your mouth.
Invisalign fits well with most patients' lifestyles. For example, if you travel a lot for work or are away at college and are unable to come back for an appointment when recommended, you can keep multiple sets of trays at home. If you're gone a long time and you reach the end of the trays you have currently, you can simply continue to wear the last tray as a retainer until you're able to come back for an appointment.
No age restrictions. Invisalign is safe for kids as young as 7 or 8; at your child's initial consultation, we will discuss the best treatment plan for your child based on their individual case.
No goopy impressions before treatment starts! Our clinics use digital 3D impressions to map your mouth prior to treatment. This is not only more comfortable for you, but it's also faster and more accurate since the scan is completely digital. Learn more about digital impressions for dentistry and orthodontics.
Time-saving benefits. You won't have to come back to the clinic to receive each set of trays. We typically give between three and six at each visit, so our patients average a clinic visit once every month and a half.

Differences Between Invisalign and Other Clear Aligners
The most significant difference between Invisalign braces treatment and other clear aligners (like Smile Direct Club or Candid Co.) is that Invisalign has features that others don't have. We can do much more with Invisalign because we fasten clear attachments on your teeth so we can make more precise movements. The clear Invisalign trays also have different ridges that push the teeth more efficiently. The trays have features built into the trays that other brands don't. With Invisalign, we have more control over your teeth movement and can treat a broader range of cases, including more complex bite cases.
Remember this: straightening your teeth is a medical procedure, and as with any health care decision, you want a licensed medical professional overseeing your treatment the entire time and performing regular check-ins to ensure most efficient and effective treatment. Braces that you receive in the mail from "as seen on TV" companies can't do that.

Using Technology to Ensure Successful Invisalign Treatment
Another benefit of Invisalign is that they have completed thousands of successful cases over the years, from minor adjustments to the most complex cases. We're able to pull data and examples from their huge database of cases, so if you have a unique case, we have a way to use past successes to ensure your treatment concludes quickly and efficiently.
We understand that orthodontic treatment is an investment in your smile, so we want to make sure you're getting the most out of your treatment or your child's treatment. To keep it fun and engaging, Invisalign offers a smartphone app that actually tracks your progress during treatment so you can see how far you've come! You'll also receive reminders to your phone for when it's time to switch to a new set of trays.
Here's an example of what the Invisalign smartphone app looks like: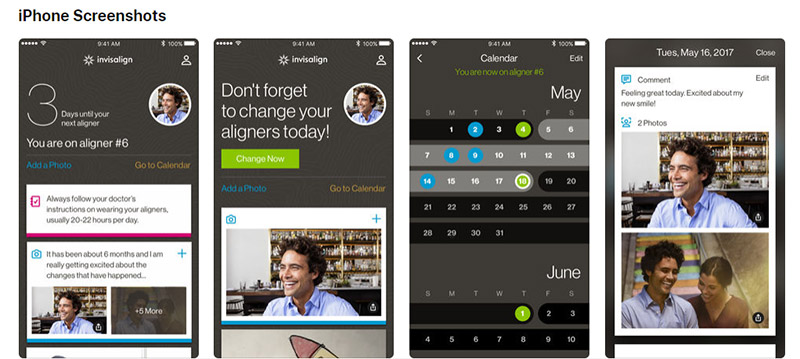 Invisalign for a Straighter Smile
Invisalign is a great way to discreetly and comfortably straighten your smile! As with any dental treatment, we will discuss your options with you at your initial consultation to learn your individual wants and needs. A straighter smile will help you be more comfortable smiling and talking, and our orthodontic team is excited to help you on your journey! Request a free consultation with us below.