Clear Braces
Straighten Your Smile Discreetly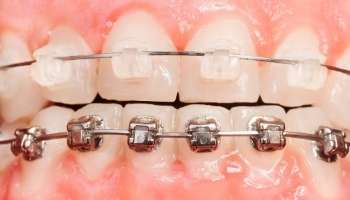 Clear braces are made with tooth-colored ceramic material to blend in with your smile and deliver a less noticeable—but effective—orthodontic treatment. Clear braces are great for adults who want an alternative to traditional metal brackets, but teenagers can get clear braces as well.
Clear braces use the same method as traditional metal braces to straighten your teeth. Your orthodontist will attach ceramic, tooth-colored brackets to your teeth, then place a wire across the brackets and secure them with clear elastics. At visits to the clinic every 4-6 weeks, your orthodontist will use a series of different wires, rubber bands, and other methods to gradually straighten your teeth with steady pressure.

Clear Braces vs. Traditional Metal Braces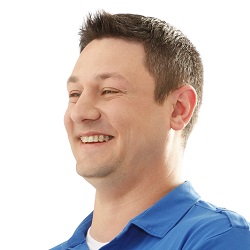 While the method of straightening teeth is the same, the cost difference between clear braces and traditional metal braces can be up to $2,000. The amount depends on your dental insurance and your individual case. When you come in for your orthodontic consultation, we'll evaluate your case, discuss available treatment options, and present the treatment cost for all options. We'll work with you each step of the way to ensure you feel comfortable with the orthodontic treatment chosen and the investment that goes along with it.

Invisalign® Clear Aligners
If you're looking for a clear braces option without brackets, Invisalign may be for you. Invisalign is set of custom-fitted removable trays made with a pliable material that fits snuggly to your teeth. Each new set of Invisalign aligners applies a slight adjustment over time. Since they're removable, you can take them out while eating, drinking, brushing and flossing, so you can easily maintain good oral health habits. You can also remove them for special occasions. Learn more about Invisalign.

Request an Orthodontist Consultation
Request a consultation today to see if clear braces are the right option for you.

How to Pay for Braces Treatment
We have several options that help you reduce the cost of braces. For example, in addition to dental insurance, did you know you can pay for braces with your Health Savings Account (HSA) or Flexible Spending Account (FSA)? Read How to Pay for Braces to learn how we can help you!

Also consider reading...
Invisalign®, the Invisalign logo, and iTero®, among others, are trademarks and/or service marks of Align Technology, Inc. or one of its subsidiaries or affiliated companies and may be registered in the U.S. and/or other countries.