Dental Associates Buys Historic Iron Block Building
Dental Group Owns a Piece of History
July 18, 2012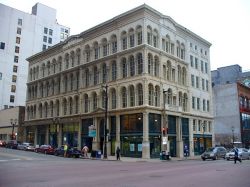 Dental Associates, Wisconsin's largest dental group practice, has recently purchased downtown Milwaukee's historic Iron Block Building for its corporate headquarters and a new dental clinic.
The Iron Block, built in 1860 when Abraham Lincoln was president, is listed in the National Register of Historic Places.
The Iron Block Building is unique in Milwaukee in that it is the only surviving building with a cast iron exterior. The building was designed by a New York based firm that was the driving force behind prefabricated cast-iron architecture in the United States.
The cast iron is bolted to the building's north and west side. While being built, it's believed a schooner on it's way to Milwaukee from New York somehow lost one of the cast iron pieces to the building in the waters of Lake Michigan near Whitefish Bay. A duplicate had to be recast and shipped again.
"We want to move the group's headquarters to downtown Milwaukee to be in a vibrant section of the city," said Anthony Vastardis, Dental Associates' CEO. "The fact it's a historic landmark in the city only adds to the beauty."
The four-story building needs extensive repairs to its namesake iron facade, along with additional remodeling, to accommodate Dental Associates.
"It definitely needs tender loving care," said owner Dr. Thomas Manos. "But we're committed to becoming part of the downtown Milwaukee community."
When completed, Dental Associates will move 40 corporate employees to the Iron Block Building and add an additional 20 employees for the 13 operatory downtown dental clinic.
Dental Associates' plans drew praise from Milwaukee Mayor Tom Barrett. He mentioned the investment in the Iron Block Building as an example of "a respected business that understands the historic importance of the building" in his State of the City address.
Dental Associates expects to move its headquarters to the Iron Block Building in Spring of 2013 with the new clinic opening in Fall of 2013. The Iron Block Building is located at 205 E. Wisconsin Avenue, on the southeast corner of Wisconsin and Water Street.
Read more Dental Associates news
###
Founded in 1974, Dental Associates is Wisconsin's largest family-owned dental group practice with 14 clinics throughout the state and nearly 850 staff members, including over 90 doctors and 629 operatories. Dental Associates provides complete family dental services, both general and specialty dentistry, from pediatric dentistry to specialized dental services for older adults, with an emphasis on excellent care that is affordable, accessible, and personalized. Dental Associates is the exclusive provider for CarePlus Dental Plans.
CONTACT INFO:
Lexi Radke
lradke@dentalassociates[dot]com
No soliciting; media inquiries only.