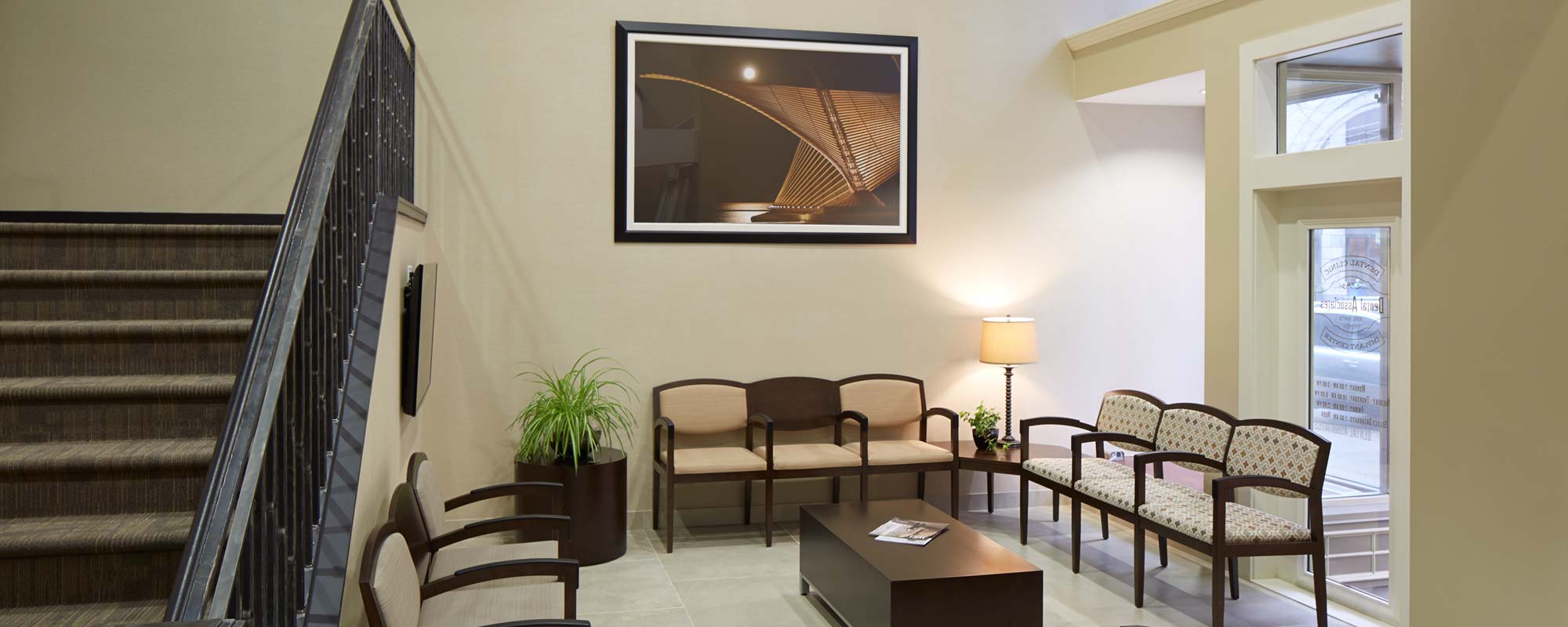 Location
205 E. Wisconsin Ave.
Milwaukee
,
WI
53202
Hours
Mon. 7 a.m. to 6 p.m.
Tues. 7 a.m. to 5 p.m.
Wed. 10 a.m. to 6 p.m.
Thurs. 8 a.m. to 6 p.m.
Friday 7 a.m. to 12 p.m.
1st Sat. 7 a.m. to 12 p.m.
Clinic Rating
out of
5
(
332
reviews)
Dental Associates clinics and dentists are rated by patients through random surveys conducted by nationally-recognized patient experience firm Press Ganey. Detailed ratings of each dentist can be found by visiting their profile page via the links below.
Services We Provide at Our Clinic
General Dental Exams
Fillings
Pediatric Dental Exams
Sealants
Fluoride Treatment
Cosmetic Dentistry
Whitening
Orthodontics
Braces
Invisalign
Tooth Extractions
Wisdom Teeth Extractions
Root Canal Therapy
Crowns
Bridges
Dentures
Periodontics
Dental Implants
TeethXpress
Dentists at Dental Associates Milwaukee - Downtown
About our Downtown Milwaukee Dentists & Dental Clinic
Dental Associates' downtown Milwaukee dental center is located in the historic Iron Block Building in the heart of the city. This state-of-the-art clinic offers you the latest in dental technology with the convenience of a downtown Milwaukee dentist. Imagine the convenience: you see your dentist downtown while the rest of your family enjoys dental care from one of our suburban Milwaukee clinics.
Our downtown Milwaukee clinic features general dentists, cosmetic dentistry, and select oral surgery care.

We Offer Free Parking!
See our Downtown Milwaukee Dental Associates Parking page for details.

Driving Directions to our Dental Clinic
Our clinic is located within the historic Iron Block Building at 205 E. Wisconsin Ave., Milwaukee, Wisconsin. We're on the southeast corner of East Wisconsin and North Water Street. Our clinic entrance is on the north side of the building along Wisconsin Ave., just east of our first floor tenant, FedEx.

From the north
Take 43 S to 794 E
Keep right and take exit 1D, follow signs for Plankinton Avenue
Take Plankinton Avenue and turn right on Wisconsin Avenue
Arrive at 205 E Wisconsin Avenue
From the west
Take 94 E to 794 E
Follow signs for Lakefront/Port of Milwaukee
Take exit 1H for St. Paul Ave/James Lovell Street
Continue towards W St. Paul Avenue
Take St. Paul Avenue east and turn left on Water Street
Turn right on Wisconsin Avenue
Arrive at 205 E Wisconsin Avenue
From the south
Take 43 N to 794 E
Take exit 1D to N Plankinton Avenue
Take exit 310C and continue on to N Plankinton Avenue
Turn right on Wisconsin Avenue
Arrive at 205 E Wisconsin Avenue
From our Beerline-B clinic
Head southeast on E Pleasant Street toward the Riverwalk
Turn right on to N Water Street, then left on N Milwaukee Street
Arrive at 205 E Wisconsin Avenue
From the Third Ward
Take Water Street north towards Downtown
Turn right on E Wisconsin Avenue
Arrive at 205 E Wisconsin Avenue