Wisconsin-Born, Family-Owned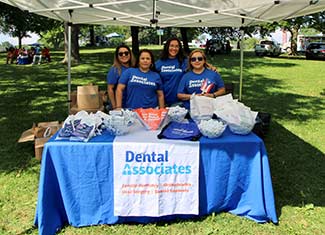 Dental Associates is proud to serve thousands of families in Eastern Wisconsin. From infants to seniors, our dental specialists are able to provide the most complete care in the state! It seems only fitting that we're able to serve patients of all ages; family is in our history, and families are our #1 priority.
Dental Associates is rooted in family values because we were started by a family. Read on to learn about our Wisconsin-born, family-owned journey.
Wisconsin-Born
Our very first clinic opened in 1974 on South 16th Street in Milwaukee. Starting as a 1-chair clinic with just a few employees, we've now grown to 15 clinics with over 850 dedicated team members! We set our roots in Wisconsin, and ever since we've been dedicated to serving the families who live in this great state.

Owned by a Dentist—Not a Corporation
We've always been owned by a dentist rather than a corporation. Though we're the largest group dental practice in the state, what sets us apart is our ownership. When our founder and first owner Dr. John Gonis passed away in 2008, his nephew Dr. Thomas Manos took over and our clinics remained in the hands of the family and a dentist. We strongly believe we offer you the most complete, coordinated, family-centered care since our owner is a practicing dentist and devoted father and husband.

Based in Milwaukee
Our main office is located in Downtown Milwaukee in the historic Iron Block Building. This is the headquarters of our main operations, and we're dedicated to carrying out all processes in the same state where we treat our patients.

We Employ Over 800 Wisconsinites
Our 15 clinics and supporting offices employ over 800 Wisconsinites. When you visit our clinics, you're not only receiving the highest-quality dental care in the state, but you're also helping support hundreds of fellow Wisconsin residents and their families. Learn about our team members' dedication to patients by watching Our Calling videos.