Dental Associates Completes Iron Block Restoration, Opens Clinic, Moves into New Headquarters
Company Adds 60 Jobs in Downtown Milwaukee
July 28, 2014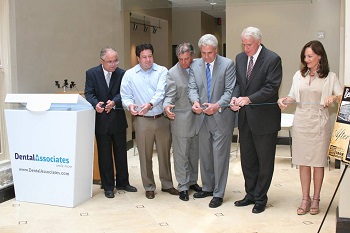 After 2-1/2 years of meticulous work, Dental Associates is opening its newest 20,000-square-foot downtown Milwaukee dental clinic in the Iron Block Building at 205 E. Wisconsin Avenue and bringing 60 jobs to the city. To staff the new dental center, the company hired 17 new employees, including dentists, hygienists, dental assistants and other professionals. In addition, in early August, it will begin moving 41 employees into its new corporate headquarters.
Dental Associates, Wisconsin's largest family-owned dental group practice, purchased the Iron Block in January 2012 and made a commitment to restore the historic landmark to its former glory. It is the only remaining building with a cast iron facade in Wisconsin.
"We are a growing and vibrant company and wanted to become part of the fabric of the city of Milwaukee," says Thomas Manos, D.D.S, M.S., president and owner of Dental Associates. "We're excited to have a clinic in the heart of downtown Milwaukee and can't wait to get to know our new patients."
With the opening of the dental center in the Iron Block Building, the company now has 11 clinics throughout the state, four of which are in the metro Milwaukee area. The multi-story clinic with 29 suites offers a complete offering of dental services including general and pediatric dentistry, orthodontics, implant dentistry and oral surgery. The clinic is now accepting new patients and can be reached at (414) 778-3600.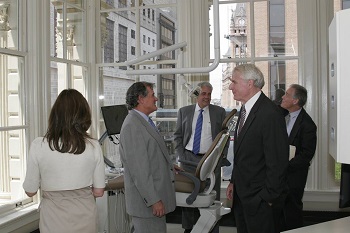 Remodeling of the interior of the Iron Block began in June 2013. Once that was completed in late July of 2014, the company began moving its corporate headquarters from 11711 W. Burleigh Street in Wauwatosa to the 55,000-square-foot Italianate style building downtown.
Mark Demsky, AIA, architect for Dental Associates, worked to retain signature interior elements of the building. For example, the Iron Block originally included a photographer's studio that had sloped walls and fixed glass panes. Demsky made sure those elements remained and converted the space into a corporate lunchroom that features a rooftop patio. In addition, the striking 11-foot arched windows on two upper floors were preserved and are now focal points in the corporate offices.
Staff amenities include state-of-the-art office space, a dedicated brainstorm space, skylights to bring in natural light, an airy three-floor open atrium, a roof deck and a cafe/beverage area on the main floor.
Iron Block History & Exterior Restoration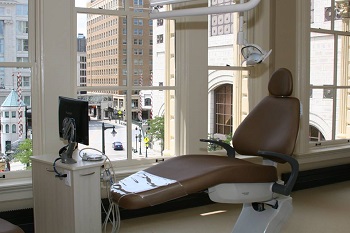 The six-story Iron Block Building began construction in 1860 when Abraham Lincoln was president and is made from pre-fabricated cast iron pieces that were designed to look like ornate carved stone masonry. The pieces were made in New York and shipped by schooner to Milwaukee.
"The Iron Block Building was erected at a time when Milwaukee was a recognized leader in commerce and industry. It's more than just a building. It's an heirloom that represents the innovative and prominent position our city held," says Demsky.
Restoration began with the exterior. Demsky pored over photographs and original drawings of the facade that documented its early days.
"Although the building had been white for the past 30 years, it originally featured a palette of colors," explains Demsky. "Based on our research and consultations with the restoration architects of a sister building in New York City, we selected two primary and two accent colors that are historically accurate and reflect the tones used during the 19th century when the building was constructed."
Before painting could begin, Demsky worked with Spray-O-Bond, a Milwaukee-based restoration contractor, to remove decorative pieces that had been added to the building over the years. Those pieces had been fabricated from sheet metal, wood and foam and were not usable for the authentic restoration Dental Associates was undertaking.
Once that was done, small sections were meticulously sandblasted to peel away layers of paint, primer and surface rust. After the bare cast iron was exposed, a three-part paint system, designed specially to protect ferrous metals, was applied.
While crews were working to polish the exterior, a pattern shop created patterns and molds of the historic decorative pieces. Foundries in Beloit and Milwaukee fabricated more than 4,200 new pieces that are identical to the original ones on the building's exterior.
The team was able to recreate ornamental elements that have not been seen on the facade in over a century, including 119 column capitals, 43 lion heads and 43, six-foot-long grapevines that spill out of each lion's mouth. Those elements, as well as cornices, scrollwork, lamb's tongue molding, vermiculated blocks, fluted columns and pilasters, window screens with grapevine motifs and thousands of other detail items were recreated.
The crowning achievement of the facade restoration is the two gable pediments located at the top of the building. The triangle shaped pieces, which face East Wisconsin Avenue and North Water Street, have been restored to their original size and prominence. Each pediment features a decorative plaque with the name of the Iron Block Building. In a nod to the building's new owners, Dental Associates appears on the pediment facing East Wisconsin Avenue.
In all, 80% of work on the building was completed by Wisconsin-based companies.
Read more Dental Associates news
###
Founded in 1974, Dental Associates is Wisconsin's largest family-owned dental group practice with 14 clinics throughout the state and nearly 850 staff members, including over 90 doctors and 629 operatories. Dental Associates provides complete family dental services, both general and specialty dentistry, from pediatric dentistry to specialized dental services for older adults, with an emphasis on excellent care that is affordable, accessible, and personalized. Dental Associates is the exclusive provider for CarePlus Dental Plans.
CONTACT INFO:
Lexi Radke
lradke@dentalassociates[dot]com
No soliciting; media inquiries only.