Dental Associates Inks Deal with Green Bay Packers
June 20, 2013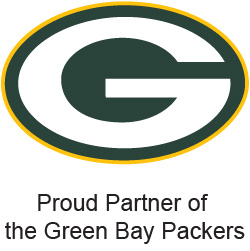 Dental Associates, Wisconsin's largest family-owned dental group practice, has signed an agreement with the Green Bay Packers to become an exclusive marketing partner in the dental industry. The move is the latest in a series of steps the company has taken to raise its profile in the markets it serves, which include southeastern Wisconsin, Green Bay and the Fox Valley.
"Dental Associates is a Wisconsin-based dental care provider with high standards and a driving focus on patient satisfaction," says Dr. Thomas Manos, D.D.S, M.S., president and owner of Dental Associates. "The Green Bay Packers organization reflects our values of quality, teamwork and leading by example."
The agreement begins with the upcoming 2013 season. From scheduling player appearances to logo usage rights, the partnership provides great value to Dental Associates' patients and staff.
"Dental Associates is a proud Wisconsin company that shares in the Packers' values of teamwork, integrity and excellence," says Craig Benzel, director of marketing and sales for the Green Bay Packers. "We're excited to bring them into our team of partners."
Dental Associates Expands Presence
Since 2008, under the leadership of Dr. Manos, the company has expanded its presence to deliver its high-quality services to more patients. In 2011, Dental Associates opened two new clinics, one on S. 27th St. in Franklin and another on Washington Ave. in Sturtevant, bringing to five its locations in southeastern Wisconsin -- three in the Milwaukee area and one each in Kenosha and Sturtevant. The company has a total of 10 clinics in the state.
In 2012, the company purchased the Historic Iron Block Building in downtown Milwaukee with the intention of moving its company headquarters and opening a boutique dental clinic at the site in fall 2013. In 2012, the company completed major renovations at its Wauwatosa location that include new surgical suites and an updated reception area.
In addition, in 2012, the company pursued and was awarded accreditation by the Accreditation Association for Ambulatory Health Care (AAAHC) as a dental home at all of its locations. Status as an accredited dental home means Dental Associates meets nationally recognized standards for the delivery of quality health care set by AAAHC in all aspects of dentistry, general to specialized. The accreditation was conducted during an independent and extensive evaluation process.
"Over the last few years, we've worked hard to bring continual improvements and innovations to our clinics and our patients," says Dr. Manos. "We're constantly pushing ourselves to be the best and most trusted provider of dental services in Wisconsin."
Read more Dental Associates news
###
Founded in 1974, Dental Associates is Wisconsin's largest family-owned dental group practice with 14 clinics throughout the state and nearly 850 staff members, including over 90 doctors and 629 operatories. Dental Associates provides complete family dental services, both general and specialty dentistry, from pediatric dentistry to specialized dental services for older adults, with an emphasis on excellent care that is affordable, accessible, and personalized. Dental Associates is the exclusive provider for CarePlus Dental Plans.
CONTACT INFO:
McKenna Carrigan
mcarrigan@dentalassociates[dot]com
No soliciting; media inquiries only.