Dental Associates Named Best Dental Clinic in Fond du Lac 2018
October 9, 2018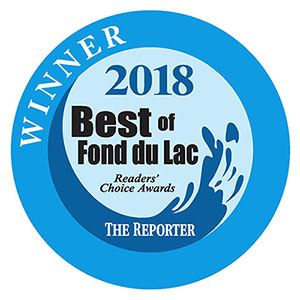 Dental Associates' Fond du Lac Dental Center was voted Best Dental Clinic in the 2018 Best of Fond du Lac Awards. Readers of the Fond du Lac Reporter voted on the nominees.
"Our focus is creating the best experience possible for our patients," said Chelsea Mielke, practice manager for the Fond du Lac dental center. "We're proud to not only provide the highest quality dental care in the city, but we're proud to be an integral part of the Fond du Lac community as well. We love serving Fond du Lac residents and treating them like our family."
Opened in 1996, Dental Associates Fond du Lac has established itself as one of Fond du Lac's best dental clinics, being voted Best Dental Clinic five out of the last six years.
Dental Associates offers patients both general and specialty dental care, thereby making complete dental care attainable for Wisconsin residents. With general dentists, orthodontists, pediatric dentists, periodontists, oral surgeons, prosthodontists and endodontists, patients and their families receive a full-spectrum of care from the same dental group without being referred to outside providers.
Learn more about Dental Associates Fond du Lac.
Read more Dental Associates news
###
Founded in 1974, Dental Associates is Wisconsin's largest family-owned dental group practice with 14 clinics throughout the state and nearly 850 staff members, including over 90 doctors and 629 operatories. Dental Associates provides complete family dental services, both general and specialty dentistry, from pediatric dentistry to specialized dental services for older adults, with an emphasis on excellent care that is affordable, accessible, and personalized. Dental Associates is the exclusive provider for CarePlus Dental Plans.
CONTACT INFO:
Lexi Radke
lradke@dentalassociates[dot]com
No soliciting; media inquiries only.