Dental Associates Opens New Clinic in West Milwaukee
November 7, 2016
Dental Associates, Wisconsin's largest family-owned group dental practice, has completed a $4.9 million renovation and remodeling of a former OfficeMax building to create a new, state-of-the-art dental center.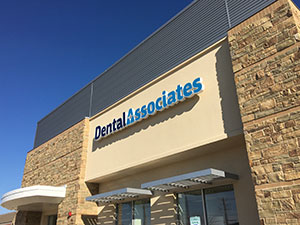 The 21,000-square-foot clinic is located at 2100 Miller Park Way in West Milwaukee and features 53 dental chairs and ample room for the team of 58 team members including dentists, hygienists, dental technicians and more. The West Milwaukee clinic offers both general and specialty dentistry, allowing families to receive complete dental care from one location. The dental specialties offered include pediatric dentistry, orthodontics, periodontics, oral surgery, cosmetic dentistry and more.
Dental Associates' new clinic on Miller Park Way replaces its previous clinic location at 1135 S. Cesar Chavez Dr.
"Our expansion to a new, larger clinic in West Milwaukee showcases our dedication to patients and our constant pursuit of providing the best patient experience possible," says Erica Butler-Maclin, practice manager. "Our new facility offers the latest in dental technology in an easily accessible location, but patients will still receive quality care under the same caring staff."
To celebrate the new clinic, Dental Associates will host a floss cutting ceremony and food drive. From November 14 to December 2, Dental Associates staff members, patients and the general public are encouraged to bring non-perishable food items to the clinic. To kick off the food drive, those who are attending the floss cutting ceremony are encouraged to participate.
Dental Associates has six clinics in the Milwaukee metro area, with another eight spread from Green Bay to Kenosha. The West Milwaukee clinic marks the third clinic opened in 2016; a dental clinic in Waukesha opened in July and a dental clinic in Howard (a suburb of Green Bay) opened in August.
View all clinic locations here

Read more Dental Associates news
###
Founded in 1974, Dental Associates is Wisconsin's largest family-owned dental group practice with 15 clinics throughout the state and nearly 850 staff members, including over 90 doctors and 629 operatories. Dental Associates provides complete family dental services, both general and specialty dentistry, from pediatric dentistry to specialized dental services for older adults, with an emphasis on excellent care that is affordable, accessible, and personalized. Dental Associates is the exclusive provider for CarePlus Dental Plans.
CONTACT INFO:
Lexi Radke
lradke@dentalassociates[dot]com
No soliciting; media inquiries only.