Dental Associates Opens New Dental Clinic in Franklin
Location Offers Full Spectrum of Dental Care
September 27, 2011
Dental Associates, Wisconsin's largest dental group practice, is opening a new dental clinic at 6855 S. 27th St. in Franklin, just along the Oak Creek border. The new location marks the company's 10th site in the state. In July, Dental Associates debuted another new clinic at 10155 Washington Ave. in Sturtevant.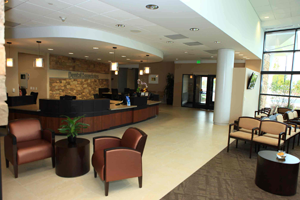 "Our two new high-tech facilities are part of my vision of providing comprehensive, affordable, top-quality dental services to residents throughout Wisconsin," says Thomas Manos, D.D.S, M.S., president and owner of Dental Associates. "Each of our locations offers a full spectrum of dental care, including both general and pediatric dentistry, orthodontics, implant dentistry, and oral surgery. Our patients receive a cohesive dental plan that's conveniently delivered at one clinic by dentists, hygienists and specialists who are close colleagues, working together every day."
Manos assumed ownership of the company in 2008 after the death of Dr. John G. Gonis, his uncle and founder of Dental Associates. Dental Associates has dental centers throughout eastern Wisconsin from Kenosha to Green Bay.
The contemporary architecture of the $9.5 million S. 27 th St. location distinguishes the clinic from nearby businesses. It features a sleek glassy rotunda, soaring white entrance canopy and attractive brick exterior. Inside, the clinic has a spacious lobby that's flooded with natural light and complemented with a brick fireplace. Children have their own play room adjacent to the lobby.
"Our goal was to make the interior warm and inviting so patients have a positive feeling the moment they come through our doors," explains Manos. "We've also incorporated a number of amenities that put patients first."
The amenities include convenient iPad check-in and medical-history gathering, private consultation rooms, quiet rooms for patients who need additional privacy, dual in-room monitors so patients can easily view their x-rays or watch educational oral care videos, color coding for easier wayfinding, skylights and exterior windows that provide soft natural light and electronic medical records that allow patients to visit any Dental Associates' location for care.
Dental Associates' patients have their own dental team that includes a dentist, dental hygienist, dental assistant and patient care coordinator who they see each time. When additional services are required, the patient's dentist consults with the on-site specialist to create an individualized plan of care, based on the patient's specific needs.
The 23,000-square-foot S. 27th Street clinic sits on a three-acre site and is staffed with 57 Dental Associates' employees, including management team members. The S. 27 th St. location includes 29 general operatories, 8 surgical operatories, 8 orthdontics chairs and 8 pediatric dentistry chairs.
"We're delighted to have Dental Associates join the Franklin community," says Franklin Mayor Tom Taylor. "This practice has a reputation for excellence so we know our residents will appreciate the convenience and superior service this new facility brings to our community."
Dental Associates had a soft opening on Sept. 20 and a business open house on Sept. 27. The clinic continues to accept new patients. The S. 27th St. location was selected to serve the growing communities of Franklin, Oak Creek and the southern areas of Milwaukee.
In addition to the two new clinics, the company's Wauwatosa location at 11711 W. Burleigh St. is undergoing a multi-phase $750,000 renovation that includes new surgical suites, as well as an updated reception area with new furnishings and floor and wall coverings.
The new S. 27th St. and Sturtevant clinics, as well as the Wauwatosa renovations, were designed by architect Mark Demsky of Demsky Design Group and constructed by Iconica of Madison.
Learn more about our Franklin dentists and dental specialists.
Read more Dental Associates news
###
Founded in 1974, Dental Associates is Wisconsin's largest family-owned dental group practice with 15 clinics throughout the state and nearly 850 staff members, including over 90 doctors and 629 operatories. Dental Associates provides complete family dental services, both general and specialty dentistry, from pediatric dentistry to specialized dental services for older adults, with an emphasis on excellent care that is affordable, accessible, and personalized. Dental Associates is the exclusive provider for CarePlus Dental Plans.
CONTACT INFO:
Lexi Radke
lradke@dentalassociates[dot]com
No soliciting; media inquiries only.