Dental Associates Voted Best Dental Clinic in Green Bay
May 29, 2016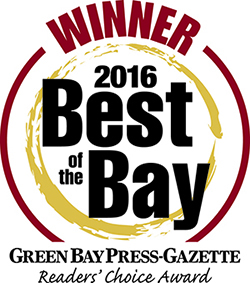 Dental Associates' Green Bay Dental Center was voted Best Dental Clinic and a finalist for Best Orthodontist in the 2016 Best of the Bay Awards.
The Best of the Bay Awards are sponsored by the Green Bay Press-Gazette, with the Gazette's readers voting to choose the winners and finalists. This is the 10th straight year Dental Associates has been a winner or finalist for these awards, which validates their reputation as one of Green Bay's best dental clinics.
Dr. John Zweig, clinic director for Dental Associates' Green Bay facility, is honored that the clinic received this recognition.
"This award distinguishes us as a patient-centric dental facility where the Green Bay community feels comfortable and valued," Dr. Zweig says. "I am proud of our entire staff for making patients our number-one priority every day."
Dental Associates offers patients both general and specialty dental care, thereby making complete dental care attainable for Wisconsin residents. With general dentists, orthodontists, pediatric dentists, periodontists, oral surgeons, prosthodontists and endodontists, patients and their families receive a full-spectrum of care from the same dental group and do not have to be referred to outside providers.
"Not only do patients realize our excellence in general dentistry, but in specialty dentistry as well," Dr. Zweig says. "I am proud that our clinic provides the Green Bay community with exceptional dental care across various specialties."
Dental Associates' growth in Wisconsin communities continues, with construction in progress for a new clinic on the west side of Green Bay in Howard and another in the Milwaukee suburb of Waukesha. Both of these clinics are scheduled to open in summer 2016.
Read more Dental Associates news
###
Founded in 1974, Dental Associates is Wisconsin's largest family-owned dental group practice with 14 clinics throughout the state and nearly 850 staff members, including over 90 doctors and 629 operatories. Dental Associates provides complete family dental services, both general and specialty dentistry, from pediatric dentistry to specialized dental services for older adults, with an emphasis on excellent care that is affordable, accessible, and personalized. Dental Associates is the exclusive provider for CarePlus Dental Plans.
CONTACT INFO:
Lexi Radke
lradke@dentalassociates[dot]com
No soliciting; media inquiries only.