Dental Associates Voted Best Dental Office in the Fox Valley
November 3, 2014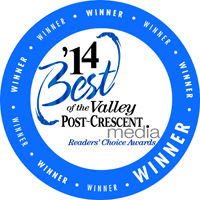 We are happy to announce that Dental Associates' three Appleton-area dental centers have been named winner for Best Dental Office in the 2014 Best of the Valley Awards. The winners were selected based on votes by readers of the Appleton Post-Crescent.
"We continuously look for ways to improve patient satisfaction." said Dr. John Cuddy, Clinic Director for the clinic located at 4660 W. College Avenue. "Being named Best Dental Office is shows that our patients like the care and experience we are providing."
The three dental centers are located at 4600 W. College Avenue and 2115 E. Evergreen Drive in Appleton, and N1737 Lily of the Valley Drive in Greenville. Dental Associates has earned its reputation as one of Fox Valleys' best dental centers, winning or being a finalist in the Best of the Valley Awards for ten straight years.
Dental Associates offers a full range of dental services including cleanings, braces, dental implants and more.
Want to find a dentist in the Appleton area?
Explore our three Fox Valley dental centers below and find patient satisfaction ratings and comments for our clinics and dentists.
Dental Associates Appleton - College Avenue
Dental Associates Appleton - Evergreen Drive
Dental Associates Greenville
Read more Dental Associates news
###
Founded in 1974, Dental Associates is Wisconsin's largest family-owned dental group practice with 14 clinics throughout the state and nearly 850 staff members, including over 90 doctors and 629 operatories. Dental Associates provides complete family dental services, both general and specialty dentistry, from pediatric dentistry to specialized dental services for older adults, with an emphasis on excellent care that is affordable, accessible, and personalized. Dental Associates is the exclusive provider for CarePlus Dental Plans.
CONTACT INFO:
Lexi Radke
lradke@dentalassociates[dot]com
No soliciting; media inquiries only.