Dental Associates Voted Best Dental Office in Fox Valley
November 2, 2015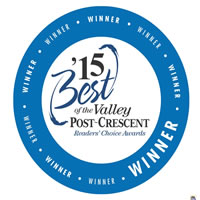 Dental Associates, Wisconsin's largest family-owned dental group practice, was voted the Best Dental Office in the Fox Valley for the fourth consecutive year.
Part of the Best of the Valley 2015 Awards, the award recognizes Dental Associates' Fox Valley clinics: Appleton, Appleton-North and Greenville. The winners were selected based on votes by readers of Appleton's Post-Crescent. This is the eleventh straight year the clinics have been finalists or winners of the award, confirming its reputation as some of the Fox Valley's best dental centers.
Dr. John Cuddy, clinic director for the Fox Valley clinics, is humbled that the clinics received this honor again.
"This award is a true reflection of our number-one priority at Dental Associates: to provide the best care possible to all of our patients," Dr. Cuddy says. "We are happy to be able to serve the Fox Valley communities, and that our patients are pleased with their dental care."
Dental Associates provides all dental specialties for patients, thereby making complete dental care attainable for Wisconsin residents. With general dentists, pediatric dentists, orthodontists, periodontists and oral surgeons, patients can receive a full-spectrum of care from the same dental group without the difficult administrative aspects of being referred to outside providers.
"All of our providers, whether they are general dentists or specialists, have the same values and high standards when it comes to dental care," Dr. Cuddy says. "It's great to have collaboration between our providers to help our patients get the most coordinated and thorough care possible."
Dental Associates' growth in Wisconsin continues, with construction recently beginning on a new clinic on the west side of Green Bay and another in Waukesha, both of which are set to open late Spring 2016. In addition, a remodel of Dental Associates' Appleton clinic will begin in November.
Read more Dental Associates news
###
Founded in 1974, Dental Associates is Wisconsin's largest family-owned dental group practice with 14 clinics throughout the state and nearly 850 staff members, including over 90 doctors and 629 operatories. Dental Associates provides complete family dental services, both general and specialty dentistry, from pediatric dentistry to specialized dental services for older adults, with an emphasis on excellent care that is affordable, accessible, and personalized. Dental Associates is the exclusive provider for CarePlus Dental Plans.
CONTACT INFO:
Lexi Radke
lradke@dentalassociates[dot]com
No soliciting; media inquiries only.