Dental Associates' Iron Block Building Earns Cream of the Cream City Award
June 3, 2014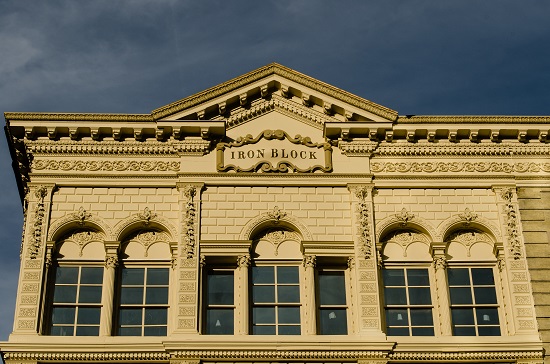 On May 29, 2014, Dental Associates received a Cream of the Cream City Award for its meticulous restoration of the exterior of the historic Iron Block Building in downtown Milwaukee. The award is sponsored by the city's Historic Preservation Commission, the Common Council and Mayor Tom Barrett to recognize individuals and organizations that have made outstanding contributions in the field of historic preservation and heritage education and advocacy in the City of Milwaukee.
"We're honored to receive the Cream City Award and are excited to share the completely restored Iron Block Building with Milwaukeeans later this summer," says Thomas Manos, D.D.S, M.S., president and owner of Dental Associates, Wisconsin's largest family-owned dental group practice. "The building is a significant part of the city's history so we're taking every step possible to return the Iron Block to its original stature and elegance."
Architect Mark Demsky, AIA, is spearheading the soon-to-be-completed project for Dental Associates. In order to execute an authentic restoration, Demsky immersed himself in 19th century architecture, delved into the building's history and pored over original drawings and sepia-toned photographs of the Iron Block.
Finally, in June of 2013, after 12 months of painstaking work, Dental Associates unveiled the building exterior (more below). The restoration included the creation of thousands of ornamental elements that had previously been missing from the building for more than a century. Dental Associates tapped local companies, including a pattern shop in Waukesha and foundries in Beloit and Milwaukee, to fabricate the historically accurate cast iron pieces.
The Iron Block was also returned to its original primary dual color scheme of sandstone cream and bronzed green. The crowning achievement of the facade restoration are the two gable pediments located at the top of the building. The triangle shaped pieces, which face East Wisconsin Ave. and North Water St., were restored to their original size and prominence. Each pediment features a decorative plaque that presents the name of the Iron Block Building.
The seven story Iron Block Building was constructed in 1860 when Abraham Lincoln was president and was made from pre-fabricated cast iron pieces that were designed to look like ornate carved stone masonry. The pieces were made in New York and shipped by schooner to Milwaukee. The building was added to the National Register of Historic Places in 1974 and is believed to be the only remaining building with a cast iron facade in Wisconsin.
Since last June, Demsky has been overseeing the renovation and remodeling of the building's interior. Once complete, the company will move its corporate headquarters from 11711 W. Burleigh St. in Wauwatosa to the 55,000 square-foot Italianate style building at 205 East Wisconsin Ave.
In addition, Dental Associates will open its first-ever downtown Milwaukee dental clinic on multiple floors of the Iron Block and has hired 20 dentists, hygienists, dental assistants and other professionals to staff the location.
Read more Dental Associates news
###
Founded in 1974, Dental Associates is Wisconsin's largest family-owned dental group practice with 14 clinics throughout the state and nearly 850 staff members, including over 90 doctors and 629 operatories. Dental Associates provides complete family dental services, both general and specialty dentistry, from pediatric dentistry to specialized dental services for older adults, with an emphasis on excellent care that is affordable, accessible, and personalized. Dental Associates is the exclusive provider for CarePlus Dental Plans.
CONTACT INFO:
Lexi Radke
lradke@dentalassociates[dot]com
No soliciting; media inquiries only.