Dental Associates Recruiters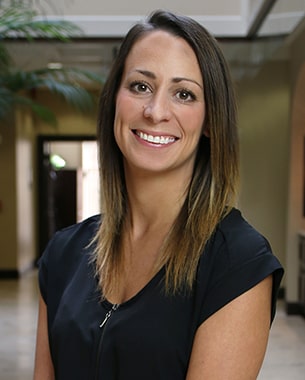 Megan Schmitt, Recruitment Specialist
"I'm passionate about finding the perfect fit not only based on experience but also the company culture and specific group dynamics to ensure a mutually beneficial and long-term success between Dental Associates and our employees."
I believe that finding the right person in recruiting is not just about finding the person with the required skill set; it's also about finding the right demeanor, work ethic and drive for the position and who is going to mesh well in the specific role, team, and company.
Growing up in a small Wisconsin town called Black Creek and completing all my education in the state, I feel a strong link to Wisconsin. I believe that this state has so much to offer to individuals, but also families. Wisconsin is a great place to raise kids...the residents truly embody good, family values and we have so much to do here! From hiking our beautiful state parks and attending summer festivals, to camping and skiing at one of our 53 ski resorts, there's something for everyone to enjoy.
I moved to Milwaukee in 2012 after graduating from the University of Wisconsin-Whitewater with my degree in Communications. The city has so much to offer, like some of the best restaurants in the Midwest, Bradford Beach (which was voted the 3rd best beach in the U.S.!), and walkability of the city.
I'd love to speak with you about what Dental Associates (and Wisconsin!) can offer you and your family.
---
Katie Herman, Doctor Recruitment manager
"My focus is to find people who will make a difference at Dental Associates. I search for the right personality for the job and for Dental Associates."
I grew up in Suamico, Wisconsin. (just 15 minutes out of Green Bay) I have my Bachelors of Science in Criminal Justice from UWM where I also received my Masters of Science in Educational Psychology. I am a Licensed Professional Counselor for the state of Wisconsin and take pride in my ability to connect with others. As a recruiter, my focus is to find people who will make a difference at Dental Associates. I search for the right personality for the job and for Dental Associates.

I have 12 years of experience within the dental clinic setting, both administrative and clinical supervision, which offers a better understanding of the team members we are recruiting for as well as the ability to relate to what occurs at the clinic level and on the clinical floor. I understand what goes into helping to staff the best people in each position we're looking to fill.

I like to tell candidates Wisconsin has a lot to offer! There is something for everyone throughout the four seasons; from Bradford Beach in Milwaukee to Nashota Beach in Two Rivers, hiking at the Whitefish Dunes State Park, snowmobiling in Crivitz, skiing at Granite Peak in Wausau, Summerfest in Milwaukee, fall colors in Door County to Packer Games in Green Bay... there is something for everyone!
---
Gretchen Duquaine, Recruitment Specialist
"I thrive on building relationships with people from all walks of life and meeting candidates who will positively impact our patients and Dental Associates."
I grew up in Green Bay, WI, and have eight years of experience with Dental Associates ranging from administrative positions to supervision. I enjoy being able to share my experiences with potential candidates. I have loved raising my family in Northeast Wisconsin and like to share what the area has to offer.
---