Experienced Dentists: Find Your Career Path at Dental Associates
If you're a dentist who is looking for the best opportunities to grow your practice, develop your skills, and achieve your goals, then Dental Associates is the perfect practice for you. With the excellent practice support and other experienced dentists, you'll have the opportunity to continue to learn and become an even better dentist. All of our dentists' career paths are unique to the individual, but yet all have one thing in common: Dental Associates helps our dentists to grow and succeed regardless of their tenure in the industry.
If you're an experienced dentist looking for a fresh, exciting career opportunity, read on to discover how your dental career path with Dental Associates could look:
An established patient base helps you get started
Garnering new patients can be one of the most difficult aspects of running a dental practice. With Dental Associates, you'll have an established patient base and patient schedule. You'll still be able to build your patient base through referrals and word-of-mouth, but Dental Associates helps you to succeed and fulfill your career goals from day one.
You'll be a part of a collegial environment
At Dental Associates, we hire only the best dentists in the industry. So when you work for us, you're among the dental community's most talented, innovative, and caring dentists. This means you'll have the best dentists and specialists to consult with, resulting in more complete, coordinated care for your patients.
You'll focus on dentistry, not running a practice
You trained to be a dentist, not a supervisor, secretary, marketer, or hiring manager. At Dental Associates, you can focus solely on being a dentist! Our highly-trained support and management staff take care of the administrative tasks, so you can focus on your craft. You'll have peace of mind knowing that your patient scheduling, accounts receivable, insurance verification, human resources, and marketing will be covered by your support staff.
Your dentistry team will support you
Our patients and team members alike benefit from our team dentistry model, where each patient sees the same dentist, hygienist, and assistant at each visit. This allows our team members to establish meaningful relationships with patients, resulting in a more positive overall experience. Because you'll have a solid relationship with your hygienist, assistant, and patient coordinator, you'll work in harmony and your patients will benefit. Think of it as a "practice within a practice:" your individual team is working together seamlessly while being supported by the Dental Associates model as a whole.
A competitive compensation package will reward your efforts
We offer our dentists a competitive compensation and benefits package with additional opportunities to earn incentives. This motivates our dentists to reach individual goals, resulting in better patient care and stimulated growth for your patient base.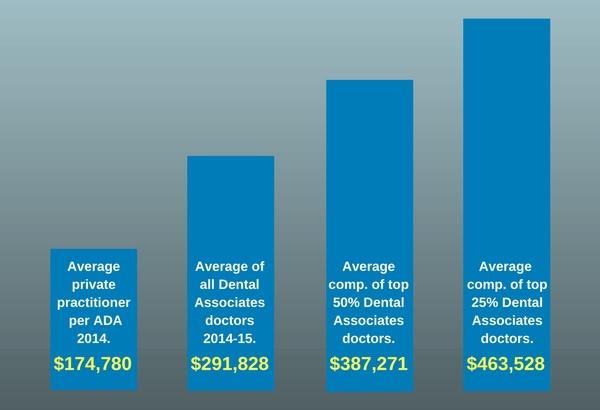 Practicing Dentists Job Opportunities
If you're ready for a new dental career path where you can focus on providing the very best dental care, then visit one of the pages below to learn more and apply!
---
Practice Acquisition
If you own your own dental practice and you're looking for an exit strategy, learn how joining Dental Associates can eliminate the stress of running your own business and assure your future is secure.
Read more about our Practice Acquisition options.