Dental Implants Cost
Dental implants cost varies because every patient is different and every case has different needs.
The cost for dental implant tooth replacement depends on several factors, including the number of teeth being replaced and the number of dental implants required to support replacement teeth. There may also be some additional procedures required prior to the placement of dental implants to ensure their long-term health, which may also impact cost.
Dental implants procedures also vary in cost depending on the type of implant needed. An implant is a man-made replacement made out of titanium, a very unique, strong material that is the most compatible with the human body. Special drills, components and equipment must be also be used for this delicate procedure.
The cost of dental implants are greater than the cost for dentures or bridges. However, removable dentures are not a long-term solution for missing teeth. Although they cost less initially, they require expensive adjustments periodically and daily adhesives to keep them in place, which adds cost over time. Plus, dentures must be replaced every 7 to 15 years as bone structure changes, whereas dental implants are permanent solutions that are placed to look, feel, and function as real teeth. Thus, they typically do not need to be replaced once the case is finished.

Dental Implants Insurance
Some insurance policies may partially cover portions of dental implant procedures. However, an implant is not a covered benefit on the majority of insurance contracts. Keep in mind you may qualify for convenient financing options through CareCredit dental financing to help manage the out of pocket costs.
In addition, Dental Associates clinics offer an exclusive dental insurance through partner CarePlus Dental Plans, which may save you up to 20% on dental implant procedures. At a consultation, one of our team members will look at your specific case and discuss your options. We will maximize all of your available medical and dental benefits and discuss your potential for additional savings. Please request a dental implants consultation.
For more in-depth information, read our blog post on the cost of dental implants.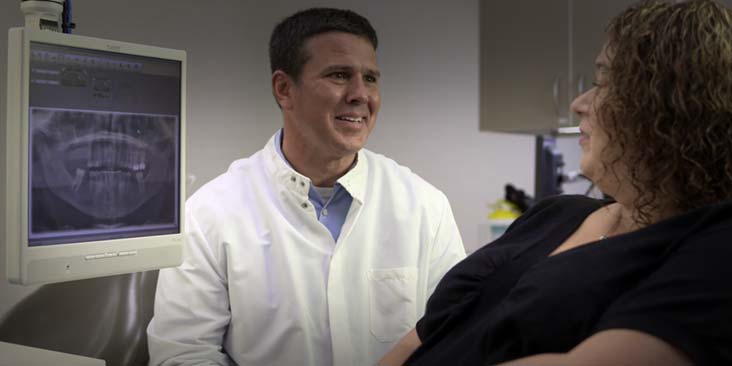 Our Services
Dental Associates offers complete family dentistry plus specialty services like orthodontics, oral surgery, and dental implants. Click to learn more.