Eating with Dentures
Eating with new dentures is an acquired skill and takes time, patience, and practice to become comfortable and efficient. It may take anywhere from a few weeks to a few months to learn how best to eat with new dentures. Some foods may be more difficult to eat, such as corn on the cob or apples, and require caution when eating.
It will also take longer to finish a meal when dentures are new. By choosing easy-to-chew foods at first, it will help gradually strengthen muscles and prepare them for more difficult and tougher foods later on.

Tips for Eating with Dentures
Do not use your front teeth for biting at first. Push food back to the side of your front teeth rather than biting things off with the front teeth
Cut up your food in small pieces and try to chew on both sides of the mouth at the same time
Try easy-to-chew foods first before you try hard foods or tougher meats
Try chewing your favorite foods at home first before eating them out in public
Generally speaking, new denture wearers have a difficult time eating salads since lettuce does not tear well with denture teeth

Dentures' Impact on Taste
Dentures should not affect taste, as all taste buds are on the tongue so covering the palate with denture acrylic should not affect a person's taste of food. However, some new denture patients complain that they can't taste food as well with the dentures as they could before they had dentures. This should improve with time as you get used to eating with dentures.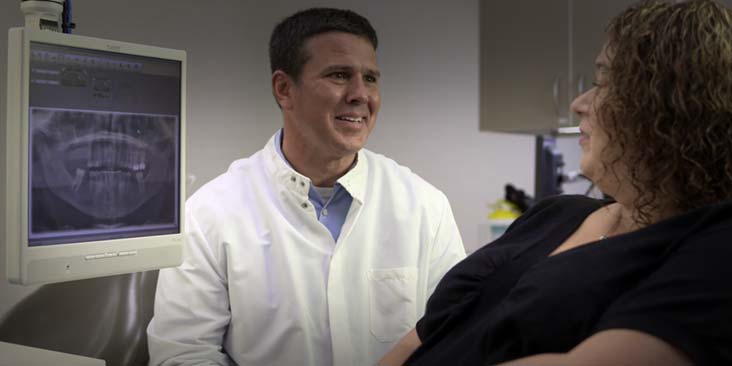 Our Services
Dental Associates offers complete family dentistry plus specialty services like orthodontics, oral surgery, and dental implants. Click to learn more.