Floss Threader
What is a Floss Threader?
A floss threader is a rigid, yet flexible piece of plastic to assist in passing dental floss around fixed bridgework and behind orthodontic wires and under denture retainer bars. Floss threaders resemble large 'needles,' and are incredibly effective in passing dental floss between teeth that are connected.
You can find a floss threader in the dental care section of nearly every grocery store or pharmacy and it can be used with any kind of floss. Many threaders are reusable, but others are disposable. If you're choosing a reusable option, be sure to rinse with warm water after every use.
Who Should Use a Floss Threader?
You should use a floss threader if…
You wear braces.
You have a permanent retainer.
You are in the process of having bridgework done.
You need to reach spaces under dental retainer bars.
You have dental appliances that prevent your ability to floss into the gumline of each tooth.
How to Use a Floss Threader
Use 12 to 18 inches of your preferred dental floss and insert one end of the floss about five inches, inside the loop of the threader.

Pass the floss threader under or over any dental appliance e.g. braces, bridges or permanent retainers.

Remove the threader from the floss and begin flossing as usual; gently back and forth and up and down into the gum line between the teeth.

Repeat the process until complete.
While it does take longer to floss when using a threader than it would without one, you can't floss effectively without it, as you would be unable to get between your teeth and up to the gumline any other way. Floss threaders offer the next best solution to receiving the best possible dental health.
Because flossing is such an important part of your dental routine, be sure to floss at least once a day, regardless of dental appliance to prevent plaque build-up and tooth decay.
Also consider reading…
Flossing
Flossing with Braces
Hate Flossing? Here are 5 things that will change your mind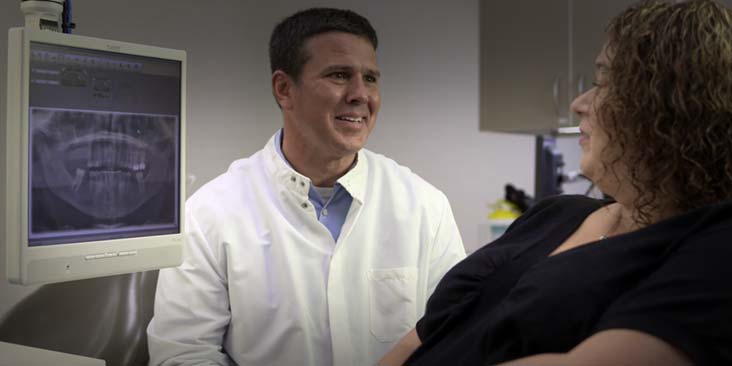 Our Services
Dental Associates offers complete family dentistry plus specialty services like orthodontics, oral surgery, and dental implants. Click to learn more.