Dental Associates' Miller Park Way Clinic Earns Design Award
May 18, 2017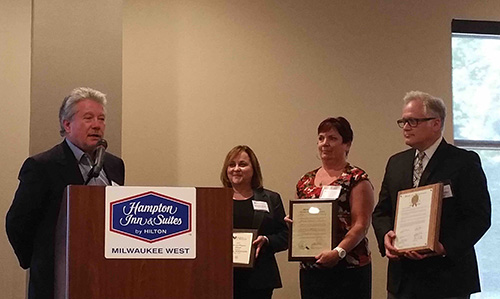 The new Dental Associates clinic at 2100 Miller Park Way in West Milwaukee earned a Pride and Progress Award from the West Allis/West Milwaukee Chamber of Commerce. The award recognizes outstanding design in the construction of a new business or the renovation of an existing property.
"The Village of West Milwaukee is extremely pleased with the skillful transformation of this vacant big box retail store by Dental Associates into something aesthetically pleasing in design and a great fit for the community, " said John Stalewski, village president of West Milwaukee.
Dental Associates opened its Miller Park Way clinic in November 2016 transformed from a former OfficeMax building. The company dedicated 12 months and $4.9 million to renovate and remodel the space to create a state-of-the-art dental center.
"As a company, we always want to be an asset and benefit to the community," says Thomas Manos, D.D.S, M.S., president and owner of Dental Associates, Wisconsin's largest family-owned dental group practice. "Turning a previously unappealing building into one that's now receiving awards is just one example of our commitment to community involvement and enhancement."
The most challenging aspect of Dental Associates' renovation project was transforming a big box store into a smaller clinic that felt warm and welcoming to patients. To make the exterior more inviting and visually appealing, Mark Demsky, AIA, Dental Associates' architect, incorporated brickwork, an entrance canopy, sunshades and planters.
Inside, Demsky took advantage of the building's height to create a dramatic lobby with an open, airy feel. Since the clinic is located in an industrial part of the city, he left the trusses, beams and HVAC ducts exposed. He balanced those harder elements with softer features – a brick fireplace and several curved elements, including a soffit with the company's tagline, smile more.
"In each of our clinics, we want patients to fully experience that they're in a small practice receiving personal, one-on-one care and attention from their own dentist and dental team," says Demsky. "It was important to bring down the scale of the space to humanize and personalize it."
At the Miller Park Way clinic, a team consisting of 58 dentists, hygienists, dental technicians and dental service representatives provide general dentistry, pediatric, orthodontic and surgical care to meet the needs of children, teens, adults and seniors.
Dental Associates is Wisconsin's largest family-owned dental group practice with 14 dental centers in southeastern and northeastern Wisconsin. The company has six clinics in metro Milwaukee, including the Miller Park Way location.
Read more Dental Associates news
###
Founded in 1974, Dental Associates is Wisconsin's largest family-owned dental group practice with 14 clinics throughout the state and nearly 850 staff members, including over 90 doctors and 629 operatories. Dental Associates provides complete family dental services, both general and specialty dentistry, from pediatric dentistry to specialized dental services for older adults, with an emphasis on excellent care that is affordable, accessible, and personalized. Dental Associates is the exclusive provider for CarePlus Dental Plans.
CONTACT INFO:
Lexi Radke
lradke@dentalassociates[dot]com
No soliciting; media inquiries only.