Iron Block Building Restoration Earns National Trust Award
November 5, 2016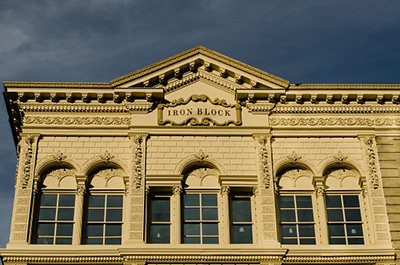 On November 4 in Washington, D.C., Dental Associates received a prestigious Driehaus Preservation Award from the National Trust for Historic Preservation for its restoration of the Iron Block Building at 205 E. Wisconsin Ave., Milwaukee. The project is one of just four Driehaus awards given by the National Trust.
Dental Associates, Wisconsin's largest family-owned dental group practice, purchased the historic 55,000-square-foot Italianate-style building in 2012 and spent 2-1/2 years restoring it. The building is now home to a Dental Associates clinic and also serves as the company's headquarters. It is the only remaining building in Wisconsin with a cast iron façade and was listed on the National Register of Historic Places in 1974.
"The Iron Block is a prominent downtown building that's a significant piece of the city's history," says Dr. Thomas Manos, D.D.S, M.S., president and owner of Dental Associates. "With that in mind, we took every step possible to return the Iron Block to its original stature and elegance."
Architect Mark Demsky, AIA, led the extensive project, which included an exterior restoration and interior renovation. In order to authentically recreate the building's facade, Demsky immersed himself in 19th century architecture, delved into the building's history and pored over original drawings and sepia-toned photographs of the Iron Block Building.
The five-story Iron Block Building began construction in 1860 when Abraham Lincoln was president and is made from pre-fabricated cast iron pieces that were designed to look like ornate carved stone masonry. The pieces were made in New York and shipped by schooner to Milwaukee.
"The Iron Block Building was erected at a time when Milwaukee was a recognized leader in commerce and industry," says Demsky. "It's more than just a building. It's an heirloom that represents the innovative and prominent position our city held."
Since the building had experienced wear-and-tear over the years, many exterior ornamental elements were missing. Dental Associates commissioned foundries in Beloit and Milwaukee to fabricate more than 4,200 new pieces that are identical to the original ones on the building's exterior.
The foundries were able to recreate ornamental elements that were not seen on the façade in over a century, including column capitals, lion heads and six-foot-long grapevines that spill out of lions' mouths. Those elements, as well as cornices, scrollwork, lamb's tongue molding, vermiculated blocks, fluted columns and pilasters, window screens with grapevine motifs and thousands of other detail items, now grace the building exterior.
The crowning achievement of the façade restoration is the two gable pediments located at the top of the building. The triangle shaped pieces, which face E. Wisconsin Ave. and N. Water St., have been restored to their original size and prominence. Each pediment features a decorative plaque with the name of the Iron Block Building.
In a nod to the building's new owners, the name "Dental Associates" appears on the pediment facing E. Wisconsin Ave.
See More about the Iron Block Restoration
Watch this video by the National Trust for Historic Preservation about the history of the Iron Block Building and our restoration of this historic building.

Read more Dental Associates news
###
Founded in 1974, Dental Associates is Wisconsin's largest family-owned dental group practice with 15 clinics throughout the state and nearly 850 staff members, including over 90 doctors and 629 operatories. Dental Associates provides complete family dental services, both general and specialty dentistry, from pediatric dentistry to specialized dental services for older adults, with an emphasis on excellent care that is affordable, accessible, and personalized. Dental Associates is the exclusive provider for CarePlus Dental Plans.
CONTACT INFO:
Lexi Radke
lradke@dentalassociates[dot]com
No soliciting; media inquiries only.