Implants Versus Dentures
With today's advances in dentures and dental implants, patients with failing or missing teeth can choose from several tooth replacement options. Teeth are vital for helping you consume the appropriate nutrition by being able to chew food, helping speak properly, upholding the integrity of facial features, and for helping patients feel confident. Learn about implants and dentures below to decide what option is best for you.

Dentures
Dentures are removable dental appliances that fit into the mouth over the gums. They are custom-made to match the mouth's structure and form. Made of a plastic plate that holds fabricated teeth, dentures fill the gaps created by lost teeth and also help the facial and jaw muscles function. Partial dentures are dentures that cover only part of the mouth, and are held in place with clasps that grab onto remaining natural teeth. Dentures may take a little getting used to, but after a while they will feel more natural.
Dentures care & cleaning requires a certain routine to ensure they remain moist and clean. Dentures need to be replaced every 7-15 years due to changes in bone and facial structure, as well as tooth wear. They also require routine adjustments, and often need to be held into place with adhesives. Learn more about dentures.

Dental Implants
A dental implant is the permanent solution for missing teeth. An implant is not removable, and the procedure entails implanting a small titanium rod into the jawbone as a replacement for the root portion of the missing tooth. The implant acts as a natural root so it helps preserve the jawbone from deterioration and bone loss that would occur otherwise. Once the dental implant is placed in the jaw, the replacement tooth (or teeth) is permanently connected to the implant. The result is a natural-looking tooth that functions just like a real tooth.
Care and cleaning for dental implant is very similar to taking care of natural teeth. Brushing and flossing every day will help keep dental implants in the best shape possible. Though dental implants are the more expensive tooth replacement option, they last much longer than dentures and are more comfortable and aesthetically pleasing. Learn more about dental implants at Dental Associates.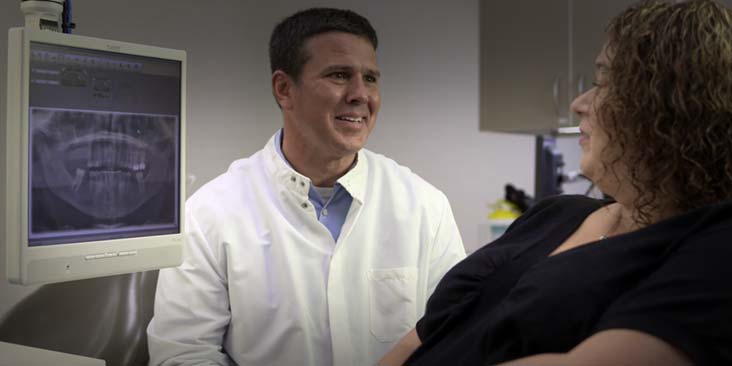 Our Services
Dental Associates offers complete family dentistry plus specialty services like orthodontics, oral surgery, and dental implants. Click to learn more.