---

Dental Implant
What is a Dental Implant?
A dental implant is a small titanium device that serves as the replacement for the natural root portion of a missing tooth. Titanium is used because of its strength and because it is a biocompatible material readily accepted by the body. It is the same material used in orthopedic implants. A dental implant can be placed in either the upper or lower jaw, and because titanium has such high biocompatible properties, the living bone tissue in the jaw adheres to the implant surface itself, allowing the implant to become one with the bone. Clinically, this is called osseointegration. The jawbone believes the titanium implant is a true root and therefore fuses with it as if it were a natural tooth root. The result is the creation of the perfect anchor for a replacement tooth or even a full set of replacement teeth.
A dental implant is the new standard of care for modern tooth replacement. A dental implant will last longer than a dental bridge or dentures because it is surgically placed to bond with the bone and functions like a natural tooth.
Typically an oral surgeon, periodontist or general dentist with training in implant surgery will place the dental implant in the mouth, then a prosthodontist or general dentist will place the crown on the abutment once the mouth has healed.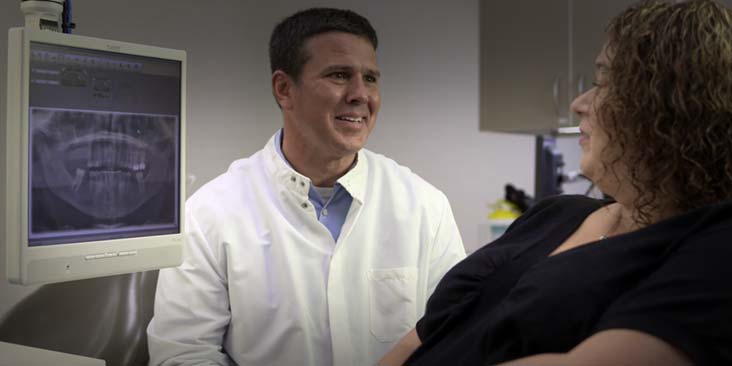 Our Services
Dental Associates offers complete family dentistry plus specialty services like orthodontics, oral surgery, and dental implants. Click to learn more.