Brushing Teeth
Brushing teeth properly is the cornerstone of a healthy mouth. Brushing your teeth daily is a routine that will help preserve your smile and prevent problems. You can also help your child develop proper brushing habits by teaching them how to brush from an early age. Read the following tips to learn how to maintain good oral health through proper brushing.

Brushing Basics
To keep your mouth healthy, The American Dental Association (ADA) recommends you do the following:
Brush your teeth twice a day for at least two minutes each time. Pick two times a day that work best for your schedule and stick to it. Most people find it easier and most convenient to brush teeth in the morning and before going to bed
Use a soft-bristled brush. Pick a size and shape that fits your mouth well to make sure it can reach all areas
Replace your toothbrush every three to four months. If bristles become frayed or matted down before then, replace it sooner, as using a disfigured toothbrush can damage gums
Use an ADA-accepted fluoride toothpaste
How to properly brush teeth:
Place your toothbrush on your teeth at a 45-degree angle to the gums
Use a circular motion to brush a couple of teeth at a time
Brush all surfaces of the teeth (outside, inside, and chewing surfaces)
To clean hard-to-reach inside surfaces of the front teeth, tilt the brush upright and make vertical strokes
Brush your tongue gently to remove bacteria and keep your breath fresh
Also, learn how to floss teeth.

Best Toothbrush Type
While there are many toothbrushes to choose from, start by choosing a soft-bristled brush. When selecting the size and shape of your toothbrush, make sure it fits inside your mouth and allows you to easily reach all areas of your mouth.
Refrain from using medium and hard bristle toothbrushes because they're too stiff to be effective and they can irritate your gums.

When to Replace a Toothbrush
The ADA recommends replacing your toothbrush every three to four months or sooner if the bristles become frayed or if you've been sick. Since your toothbrush is the main tool for proper dental hygiene (and it's used twice a day), so it's important to make sure it's in good condition.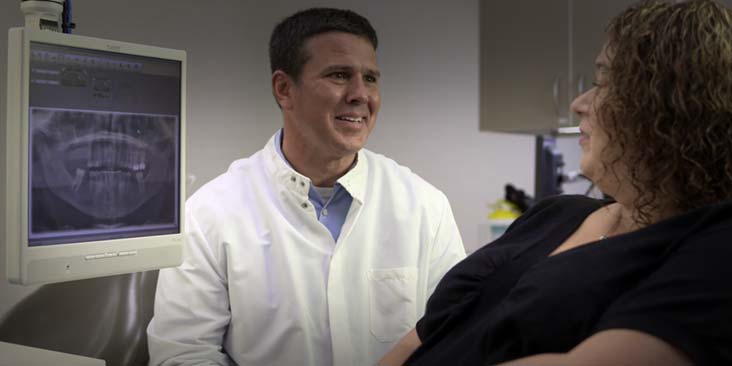 Our Services
Dental Associates offers complete family dentistry plus specialty services like orthodontics, oral surgery, and dental implants. Click to learn more.