Attractive & Cost Effective Dental Implants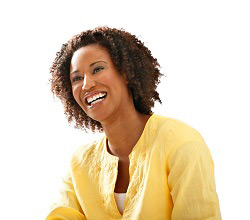 If you are missing one, several, or all of your natural teeth, or if you have failing or non-functioning teeth, dental implants may be perfect for you! With dental implants from Dental Associates, you will look and feel better because implants function just like natural teeth. Dental implants are the attractive and cost-effective option for permanent tooth replacement.
Dental implants are the only product available that replaces the entire tooth root. Traditional methods such as dentures or bridges replace just the crown portion of the tooth. Implant-supported crowns are superior because they can restore your functionality, keep any remaining teeth healthy, preserve the jawbone and facial structure, and don't have to be removed for cleaning.
In the long run, dental implants are more cost-effective because they are designed to last a lifetime and do not need to be replaced. Plus you won't need any special cleaning agents or tools to maintain them besides regular brushing and flossing.

How Much Do Dental Implants Cost?
Dental Implants are more affordable than you may think. The cost of dental implants depends on several factors, including the number of teeth being replaced and the number of dental implants required to support your replacement teeth. There may also be some additional procedures required prior to the placement of your dental implants to ensure their long-term health, which may also impact cost. Learn more about dental implants cost.
Dental Associates also offers Immediate Function™ procedures, patented by Nobel Biocare. These procedures often result in lower costs because they allow for fewer implants being placed versus traditional implant procedures. The All-on-4™ treatment option is also a cost-effective procedure, and may be a great fit for those with dentures, failing teeth or no teeth at all.

The Cost-Effective Option for Edentulous Patients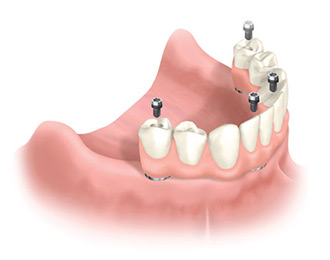 Most clinicians placing implants in patients who have poor teeth, no teeth, or wear dentures place six to eight implants per arch. When you factor in the cost of each implant, materials needed, the procedure itself, and follow-up visits, the All-on-4 (AO4) or TeethXpress technique often costs less than traditional implant treatments. Both procedures are similar and offer you a quicker and less-costly way to replace your missing teeth.
All-on-4 and TeethXpress are specifically designed for people with failing teeth or no teeth, those currently wearing dentures, and those in need of full upper and/or lower restorations. Qualified patients receive as few as four implants and a full set of new implant-supported replacement teeth per arch, usually in just one clinical appointment. The major benefit to the All-on-4 or TeethXpress procedure is how quickly dentures can be replaced with permanent implants and fixed, non-removable new replacement teeth. This efficiency saves time and money and offers minimal discomfort.
Dental Associates is a leader in delivering this technically-advanced implant placement procedure. Unlike other approaches that are much more surgically invasive, All-on-4 or TeethXpress dental implants can eliminate the need for bone grafting, sinus augmentation or other ancillary procedures. Altogether, this procedure is often quicker, less costly, and reduces healing time.
"Fewer implants" means:
Reduced surgical complexity
Lower procedure costs
Dramatically decreased chair time and healing time
A quicker, more efficient way of getting a happier, healthier smile

All-on-4 and TeethXpress dental implants are also superior to more traditional implant placement approaches. We can restore your mouth to full functionality all at once, and the results will last a lifetime. You simply need to care for your new teeth as you would natural teeth by brushing and flossing daily, as well as seeing your dentist and hygienist for regular exams and cleanings. Dental Associates is proud and excited to offer the resource savings of the All-on-4 and TeethXpress options because we want to give you back your smile quickly and affordably.

*Immediate Function is a registered trademark of NobelBiocare ®

Request a Dental Implants Consultation
Please request an appointment at your local Dental Associates clinic to schedule a free consultation to discover how dental implants can change your life!