Same Day Dental Implants
You may see advertisements or read online content saying you can get same day implants, but we want to be upfront with you. Not everyone is a candidate for same day dental implants. In fact, most people aren't and it depends on your individual case, what type of procedure you need done, and what care is required before the dental implant can be placed. For the most detailed and accurate information, please request a consultation and our teams will help determine the best plan of care for you.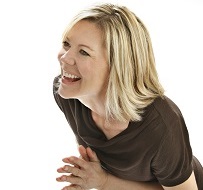 Dental implants are a major surgical procedure that offers a long-term solution for replacing failing or missing teeth. Unlike a cosmetic dental procedure such as teeth whitening, dental implants take many appointments to perfect. While some outlets may claim that you can get dental implants in one day, Dental Associates wants to be transparent with you: most implant procedures require multiple appointments to ensure proper care, placement, and stability for your individual case. Especially in cases where the mouth has experienced significant decay, a patient may need multiple appointments for extractions and bone grafting before the implant(s) can be placed.
You may be anxious to get your new smile and restore your mouth to full function, but it's more important to take the time needed to achieve your ideal result. Read on to learn about the two main types of dental implant procedures and why they usually require multiple appointments.

Single-Tooth Dental Implant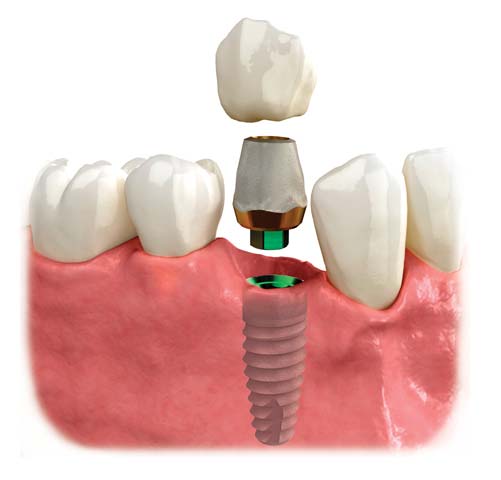 A single-tooth dental implant actually has three parts to the implant, which means there are at least three different appointments required for the complete procedure.
The implant is a small titanium device that serves as the replacement for the natural root portion of a missing tooth. The implant is made of titanium because titanium is a strong, biocompatible material that bonds with the bone.
The abutment is the connecting piece of the dental implant that links the titanium implant post to the crown.
The crown is the visible part of the implant that will serve as your new tooth. It's typically made of ceramic or porcelain, and your dentist will match the shade of the crown to surrounding teeth so no one will be able to tell which tooth is artificial unless you tell them. Read more about replacing a single tooth.

Full-Arch Dental Implants
If most or all the teeth in one arch are missing or failing, your dentist will recommend a full-arch dental implant solution called TeethXpress, which replaces all the teeth in one arch usually with four to six implants attached to a fixed prosthesis, or a second removable option called implant-supported dentures, where two to four implants are placed and then attached to a denture to create more a stable solution than traditional dentures.
TeethXpress Dental Implants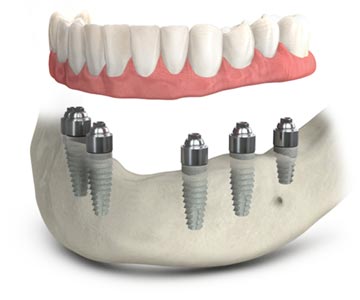 TeethXpress dental implants have three parts: the titanium implants, the abutments, and the prosthesis that serves as your new set of teeth.
The titanium implants are placed into the jaw and bond with your bone to provide a strong base for the abutments and prosthesis. The placement of the implant is a major procedure that, like other surgical procedures, requires time for the body to heal and bond with the new material it's been introduced to. This is the main reason why most dental implant procedures cannot be completed in one day. You'll leave your implant placement appointment with a set of temporary teeth placed on the implants, then you'll come back 3-6 months later to receive the final prosthesis once your mouth has fully healed. Read more about TeethXpress dental implants.

Implant-Supported Dentures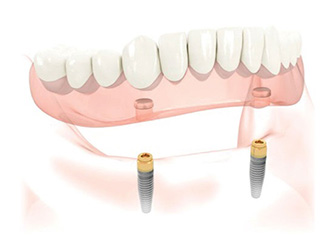 Implant-supported dentures are another option for replacing all missing teeth. In this procedure, your implant specialist can sometimes take your existing dentures and turn them into replacement teeth by attaching abutments to the bottom, which will then attach to implants placed into the jaw. In some cases, new dentures may need to be made in order to attach and function appropriately with the dental implants. With implant-supported dentures, you'll have to wait about three months while the implants heal and integrate into the bone. After three months, you'll return to the clinic for placement of the abutments and modification of the existing denture or placement of a new denture, which will then snap onto the abutments and provide you with a stable solution.
Read more about replacing all teeth.

Also consider reading...