TeethXpress Dental Implants Benefits


When you get TeethXpress dental implants from Dental Associates, you'll experience numerous benefits. First, you will achieve a set of full-functioning teeth in a very short timeframe. Next, your new teeth will help you be more comfortable with your smile and live life confidently.
Simple procedure
Our team of dentists and implant specialists will work to determine the best fit for you. Typically, TeethXpress dental implants require four to six implants placed in your jaw to secure the permanent set of TeethXpress teeth (fixed dentures) in place. Your dental implants are created specifically for your mouth, and TeethXpress dental implants have a 99.2 percent success rate.
Quick Results
Depending on your specific case, the procedure can take as little as a few hours. Your new smile will be ready as soon as the procedure is over.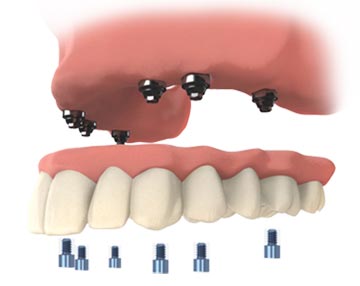 Improved Appearance
Dental implants can take years off your appearance. Removable dentures are merely placeholders and do not protect your bone structure. Without anything permanent in place, the bone deteriorates over time, making you look prematurely aged. Dental implants restore the integrity of your jawbone and prevent the deterioration of facial structure that results from missing teeth and roots.
Long-Lasting
TeethXpress Dental Implants will last you a lifetime. Once the procedure is finished, you will experience improved chewing ability and overall comfort that will last for years without any maintenance needed.
Improved Overall Health
TeethXpress Dental Implants will create a healthier mouth, resulting in overall better oral health. Because your new teeth will be in the correct place, you will be able to maintain your teeth better through proper hygiene. Your TeethXpress dental implants will look and function as real teeth, so you can brush and floss your teeth as normal. In addition, your enhanced jaw structure will help keep your mouth and face healthier too and prevent any further health issues due to deteriorating jaw or receding gums.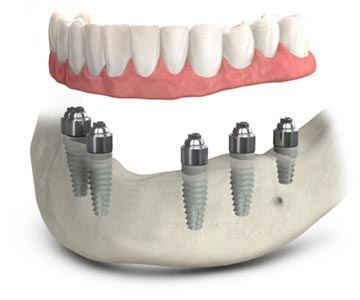 Request a TeethXpress Dental Implants Consultation
Request a consultation with the TeethXpress specialists at Dental Associates by clicking the banner below.