Dental Care During Pregnancy
Dental care during pregnancy is extremely important. From keeping up with daily oral hygiene, to monitoring changes in young mouth, the more in-tune you are with your oral health the healthier your baby will be.

The Importance of Seeing Your Dentist During Pregnancy
Just as you have doctor visits for prenatal checkups, it's also important to visit your dentist for prenatal dental care. Your dentist can help discuss changes in oral health during pregnancy and what to look for. There is a connection between your health during pregnancy and your baby's health, so visiting your dentist during pregnancy is essential.
Learn how dental X-rays during pregnancy are indeed beneficial to you and your baby.

Your Teeth: What to Expect When Pregnant
During pregnancy, the changing hormone levels can leave your mouth more vulnerable to bacteria and plaque, both of which create tender gums during pregnancy. This can put you at greater risk for tooth decay and gum disease.
Here are a few dental issues to monitor during pregnancy:
Gum inflammation is more likely to occur during the second trimester. Your gums may be swollen, tender, and may bleed a little during brushing and flossing.
Plaque buildup during pregnancy is common, but brushing and flossing regularly can help. Your body may not fight off plaque as easily when you're pregnant, which can lead to tooth decay and gingivitis. You can also ask your dentist about an antimicrobial mouthwash to help keep plaque away. A dental hygienist will also remove plaque buildup during your regularly-scheduled dental appointment.
Although pregnancy does not cause periodontal disease, pregnancy can exacerbate this condition, which can result from untreated gingivitis.
Pregnancy tumors are overgrowths of tissue appear that on the gums, most often during the second trimester. They are non-cancerous growths believed to be related to excess plaque. They may bleed easily and will usually disappear after the baby is born.

Dental Hygiene during Pregnancy
Here are daily dental hygiene some tips to keep in mind while you're pregnant:
Brush your teeth at least twice a day with fluoride toothpaste. If your gums are swollen and tender due to pregnancy gingivitis, try switching to an extra soft toothbrush and brush as gently as possible. After all, it's the brushing motions that clean teeth—not the pressure of the toothbrush.
Floss gently once a day. Swollen and tender gums during pregnancy are normal, but see your dentist if you have concerns.
Visit your dentist regularly for a professional cleaning and check-up.
Ask your dentist about an antimicrobial mouth rinse to help combat the increase of plaque.
If you have morning sickness and vomiting, rinse your mouth with a teaspoon of baking soda mixed with water. This will help keep stomach acids from attacking your teeth and causing decay.
Eat a diet rich with calcium, B12 and vitamin C to help keep gums healthy.

A Healthy Diet During Pregnancy
Eating right during pregnancy will help keep you and your baby healthy. Your baby's teeth begin to develop between the third and sixth month of pregnancy, so making smart food choices while you're pregnant can have an impact on your baby's developing teeth.
Eat a variety of healthy foods, including fruits, vegetables, whole-grain products and dairy products like milk, cheese, cottage cheese and unsweetened yogurt
Limit high-sugar foods such as candy and cookies, and avoid drinks high in sugar like fruit juice or soda
Drink plenty of water, especially between meals and snacks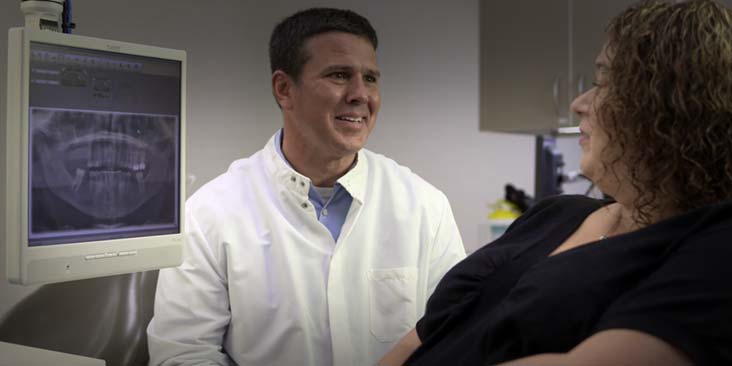 Our Services
Dental Associates offers complete family dentistry plus specialty services like orthodontics, oral surgery, and dental implants. Click to learn more.