Scaling and Root Planing
What is Scaling and Root Planing?
Scaling and root planing is a non-surgical periodontal therapy used to treat periodontal disease.
Periodontal disease is caused by bacteria, which leads to an inflammatory response in the mouth and body. This inflammation in the mouth can cause the gum tissue to become red, puffy, and pull away from the tooth, thus forming pockets. Deep pockets are difficult to clean at home because flossing does not reach the base of the pocket and disrupts the bacteria. If left untreated, the bacteria can destroy the periodontium (bone and ligaments that surround/support your tooth), leading to permanent damage and possibly tooth loss. Your dentist and hygienist will thoroughly review your medical and dental history to determine if you have periodontal disease. They will then complete a comprehensive periodontal assessment to determine your level of periodontal health. In addition to performing a periodontal evaluation, your doctor may need a full mouth set of radiographs to evaluate your bone health and well as any other forms of pathology.
If scaling and root planing are recommended for you, it is usually done in two appointments (depending on the number of teeth involved). The procedure usually consists of the use of an anesthetic to help reduce any discomfort during the cleaning. This non-surgical therapy involves using specialized instruments to go below the gum line and remove plaque, tartar, and stain from the root surface. Your doctor will then plane the root surface to remove any toxins embedded in the cementum or dentin of the tooth. The removal of these toxins will help the tissue heal and reattach to the tooth surface. This reattachment process will decrease the depths of the pocket, allowing for easier cleaning at home and in the dental office.
After having scaling and root planing completed, your doctor or hygienist will follow up to see how you have responded to the therapy. Depending on how you respond to the initial scaling and root planning, they will determine if additional treatment is necessary. If you responded well, your doctor might recommend having periodontal maintenance cleanings with your hygienist instead of routine dental cleanings. Periodontal maintenance visits are usually recommended every 3 to 4 months, and it is crucial to follow the recommended recall. Coming in every 3 to 4 months will allow your hygienists to remove any bacteria or toxins that have formed in those pockets, helping reduce any more destruction to the periodontium. Not only are the visits to your dental professional crucial, but so is your home care. Proper home care (brushing twice a day for two minutes and flossing daily) will also help reduce the number of bacteria in your mouth.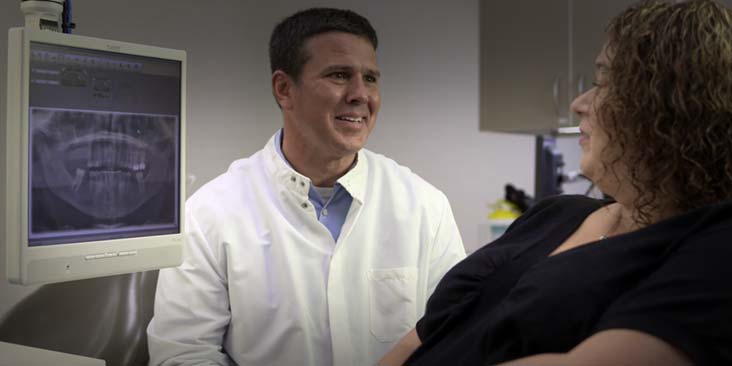 Our Services
Dental Associates offers complete family dentistry plus specialty services like orthodontics, oral surgery, and dental implants. Click to learn more.