Water Flosser
What is a Water Flosser?
A water flosser is an alternative to traditional string floss, allowing advanced oral care at home. Using a stream of pressured water, the flosser can clean between the teeth, removing and minimizing food particles and plaque. The flosser allows for an easier, more thorough cleaning of teeth. In some flossers, the water pulsates to stimulate the gums leading to various health benefits.
What are the Benefits of Using a Water Flosser?
If you are unlikely to use string floss, a water flosser may be a better option because it will make the process more comfortable and less time-intensive, ultimately making you be more likely to floss.
Benefits include:
Prevention and treatment of gum disease through tissue stimulation and the ability to remove plaque and bacteria from near and around the gums.
Ease of cleaning braces and other orthodontics cleaning hard to reach areas around brackets, permanent retainers, bridges, crowns, and implants.
Highly accessible for individuals with lower dexterity for those with arthritis or shoulder pain who find flossing difficult or painful, the water flosser is more accommodating and yields equal or better results than string floss.
Fresher breath and whiter teeth by removing plaque and bacteria that live beneath the gum line that are a primary cause of bad breath.
While a water flosser reaches some areas a toothbrush cannot, it is not a substitute for brushing. Individuals should brush two times per day, and floss once a day. Water flossers are meant to serve as an alternative to string floss, interdental brushes, and floss threaders, removing plaque and food particles.
Also consider reading…
Brushing Teeth
Brushing Teeth with Braces
Flossing Teeth
Floss Threader
Hate flossing? Here are 5 things that will change your mind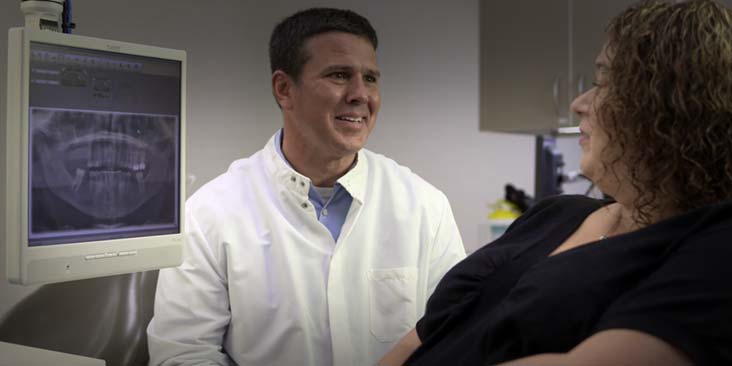 Our Services
Dental Associates offers complete family dentistry plus specialty services like orthodontics, oral surgery, and dental implants. Click to learn more.