A Child's First Dentist Visit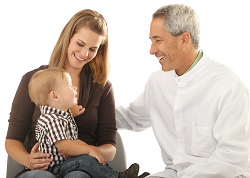 Parents are often curious about when their child should first visit the dentist. You should schedule your child's first dental visit when their first tooth erupts through their gums or by their first birthday—whichever event occurs first.
You child's first dental visit will introduce them to what they can expect from a typical visit to the dentist. First, your pediatric dentist will use a show and tell method called tell-show-do where they show of all the equipment in the examination room and explain what each instrument is used for. Then the dentist will briefly examine your child's teeth, gums, jaw, and bite to ensure that everything looks good. The dentist may also decide if a cleaning is necessary at that first visit.
The dentist will also be able to give tips specific to your child regarding how to keep their first tooth and entire mouth healthy.
This is what you can expect from Dental Associates when you make your child's first dental appointment:
Experienced, compassionate care from your pediatric dentist and their entire support staff
Education regarding the equipment and instruments that will be used during the appointment
Demonstration on how your child should properly brush and floss
Helpful information to aid in the success of at-home oral hygiene
Answers to all your pediatric dentistry questions regarding your child's teeth, including teething and thumb sucking, food choices, pacifiers, bottle feedings, and more
Our pediatric dentists are also experienced in helping children to be calm at the dentist, especially if they have dental anxiety. We understand that a child's early experience at dental visits can influence their attitude towards dentists for a lifetime. Our pediatric dentists will use various techniques to help your child feel calm and comfortable at their dental visit. These techniques include "tell-show-do," praise, distraction, nonverbal communication, and parent participation.
A child's first dental visit sets the stage for future dental visits. Our pediatric dentists have extensive experience working with children to help calm them during dental visits. If your child does have dental anxiety or behavioral issues at the first dental visit, your pediatric dentist will use one of several techniques to help them remain calm, including praise, voice control, and sedation (in extreme cases).
Learn how our experienced dentists calm a child with dental anxiety.

Lap-to-Lap Technique
Your child may be anxious or nervous for their first dental visit. This is why we use the lap-to-lap dental examination technique to help make them more comfortable.
Learn more about the lap-to-lap technique.

Request an Appointment
Request an appointment with one of our experienced pediatric dentists today. We look forward to seeing you and your child at their first dental visit!

Also consider reading...