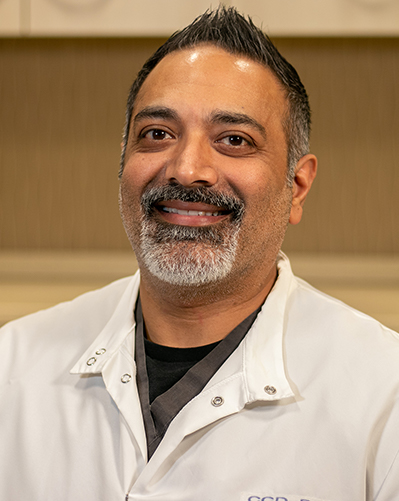 About Me
---
"I love practicing oral and maxillofacial surgery. I get to do what I love while helping patients."
Languages Spoken
English, Gujarati
Education
---
University of Illinois Urbana-Champaign, B.S., Biology, 1996
Boston University School of Dental Medicine, D.M.D., 2001
Boston University, OMFS, CAGS, 2005
Professional Associations
---
American Association of Oral and Maxillofacial Surgeons
American Board of Oral and Maxillofacial Surgery
Insurance
---
As a service to our patients we will provide an estimate of costs prior to services rendered. All co-payments or other out-of-pocket expenses will be due at time of service. Dental Associates will submit all claims directly to the patient's insurance company. The insurance company will determine the benefit reimbursement. Any remaining balance is the patient's responsibility.
Please visit our Dental Insurance We Accept page for more details
Patient Reviews
Patient comments are gathered from our Press Ganey Patient Satisfaction Survey and displayed unedited in their entirety. Patients are de-identified for confidentiality and patient privacy.
August 17, 2021
Dentist provided a rapid referral for tooth removal.
August 10, 2021
Awesome dr he was great all around. Very considerate
March 20, 2021
Felt very rushed.
March 5, 2021
friendly and helpful
February 24, 2021
he never said anything to me
February 2, 2021
no one tried to calm me down with my nervousness for the surgery dentist only said 2 words to me no bedside manner at all from dental assistants or dentist
January 29, 2021
Dr.Perry told me that this is why you dont let your teeth get this bad as if i had a choice. i felt nothing but pain when he was removing my tooth on the left side of my mouth. He also told me that i cant give you anymore meds and if i couldnt take it he was going to stop, never mind he already started extracting the tooth.
January 23, 2021
he seems like a good dentist but he could spend a little more time with the patient
January 9, 2021
The oral surgeon spent zero time addressing possible complications and remediation procedures...he was in and out of the room after completing the freezing and removal of the tooth without any discussion. The assistant did a good job of preliminary instructions and tooth prep. The oral surgeon may be qualified to do his job but he has little bedside manner, thus the very poor rating for concern, caring and confidence. I have left numbers 1, 2, 5, 6, and 7 blank because he never addressed anything with me except can you feel that before starting the extraction procedure. Im glad he did that much because I was well frozen and felt no pain during the extraction procedure.
January 9, 2021
I went to dental associates on 12/28I was very nervous and I let people know that. When the assistant brought me back to the room and I was teary eyed and explained my worries. I was worrying about Gaging and the pain. She was very nice and put the topical ointment on. The doctor came in and just said hi, he didnt even introduce himself. They put the bite blocks in and I gagged a little and started getting nervous and teary eyed. The shots didnt hurt that much except one hurt and I winced in pain. The doctor left and I told the assistant that I wish he (doctor) was nice. I said he seems mean and not caring at all. She assured me he was. Me and the assistant talked for a little bit and then the doctor came back when I was numb enough. He started digging into my mouth and i felt the pressure but then it started to hurt. I raised my hand and he didnt stop so I raised it again and made a noise. He stopped. I said it hurt and he said I cant put anymore numbing in (in a rude tone) and then said you have so much decay its going to feel like this, we will have to sedate you and once I start I cant stop I said no we can keep going he said no Im done, and threw his gloves and coat on the table and walked out. He just left my mouth bleeding my left. The assistant was really nice though but he was very mean