Dental Checkups, Teeth Cleaning & Preventive Care
At Dental Associates, we work with you to create and maintain your ideal smile. With proper daily cleaning routines on your end and visits to Dental Associates twice a year, your mouth will remain healthier overall.
Daily Dental Routine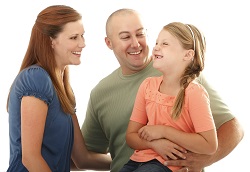 Your daily dental routine should consist of these two simple steps:
Brushing your teeth at least twice a day. One of the easiest things you can do to clean your mouth and help maintain oral health is to regularly brush your teeth. Visit our how to brush teeth page for the proper technique.
Flossing your teeth at least once a day. Flossing at least once a day will help remove bacteria and keep plaque at bay, which will prevent cavities, tooth decay, and gum disease in the future. Visit how to floss teeth to learn more about flossing properly and view our blog post on what type of floss to use.

Cavities and Tooth Decay
Tooth decay occurs when the enamel (the outer layer) on your teeth breaks down and becomes damaged. This breakdown results in cavities.
Cavities can affect any person at any age. Children are the most susceptible, but adults can get them too. As people age, receding gum lines and cracks in existing fillings can hide bacteria, which can result in an increase in cavities over time.
You can prevent cavities by doing the following:
Follow a daily cleaning routine of brushing at least twice a day and flossing at least once a day
Visit your Dental Associates hygienist and dentist every six months for professional teeth cleanings and oral examinations
Eat nutritious, balanced meals and limit snacks high in sugar

Mouth Guards
In addition to daily cleaning and checkups twice a year, mouth guards may be a necessary preventive care measure. If you or your child participate in sports, custom mouth guards are essential to protect teeth from damage. Learn more about mouth guards.

Request an Examination
Our team at Dental Associates is eager to serve you. To request an examination with a dentist, please click the banner below.


Also consider reading...