Braces for Adults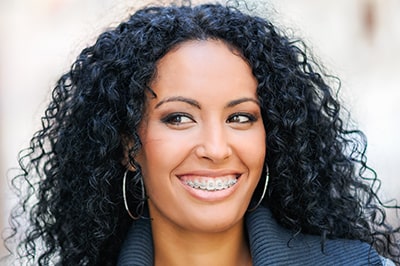 Braces aren't just for kids. Now more than ever, adults are enjoying the benefits of orthodontic care no matter their age.
Straight teeth, teeth with a correct bite, and teeth that are aligned properly are healthier. When teeth are crooked and misaligned, there are plenty of places for plaque and food particles to hide. The more plaque and food that builds up, the greater chance of decay, inflamed gums, and gum disease. Additionally, an improper bite because of misaligned or crooked teeth often makes chewing food more difficult, which can lead to gastrointestinal problems.
With today's advanced materials and techniques, wearing braces is much more efficient, convenient, and comfortable than ever!

Benefits of Braces for Adults
Adult braces improve...
Teeth function, allowing you to bite and chew correctly
The ability to restore missing teeth
Facial appearance
Oral health
Confidence and self-esteem
Adult braces prevent…
Tooth decay by correcting areas where plaque can easily build up
Periodontal (gum) problems
Bone loss around teeth
Straining of teeth, jaws, and muscles that could lead to a greater risk of tooth breakage
Abnormal wearing of tooth surface
Difficulties in chewing
The type of braces you may need as an adult depends on a few factors:
The severity of your bite or crookedness of your teeth
If special appliances are necessary
The amount of time you will need to wear braces to correct your problem
How you want to look in your braces

Invisible Braces for Adults
Materials for braces have advanced considerably over the years and metal braces are no longer the only option. More discreet options are available, depending on your individual treatment needs.
Invisible braces for adults options include:
Clear/ceramic braces: Ceramic braces are made of composite materials. They come in varying levels of transparency and will mimic the color of your natural teeth. Learn more about clear braces.
Lingual braces: Lingual braces are metal brackets that attach to the back of your teeth versus the front and are much less noticeable. Please note: Not every Dental Associates location offers lingual braces. If you're interested in lingual braces, please contact your local clinic before requesting a consultation to assure they provide this treatment option.
Invisalign®: Invisible braces, more commonly referred to as Invisalign, are a set of clear, removable trays that are custom-fitted to your teeth. You wear them for 20-22 hours a day and change your set as your teeth shift. Your orthodontist will evaluate your specific case to see if Invisalign is right for you. Some, but not all, bite discrepancies can be treated with Invisalign Learn more about Invisalign.
Invisalign Go®: For patients who have minor alignment concerns, Invisalign Go offers a shorter treatment time and is offered by certain general dentists. Ask your dentist at your next appointment.
Your Dental Associates orthodontist will help you decide the style of braces that will work best for your individual circumstance and tooth realignment needs. In the end, you'll have straight, healthy teeth that will keep you smiling for a lifetime!

Request an Orthodontist Consultation
Request a consultation today and learn how adult braces can transform your smile.


How to Pay for Adult Braces
We have several options that help you reduce the cost of braces. For example, in addition to dental insurance, did you know you can pay for braces with your Health Savings Account (HSA) or Flexible Spending Account (FSA)? Read How to Pay for Braces to learn how we can help you!

Also consider reading...
Invisalign®, the Invisalign logo, and iTero®, among others, are trademarks and/or service marks of Align Technology, Inc. or one of its subsidiaries or affiliated companies and may be registered in the U.S. and/or other countries.